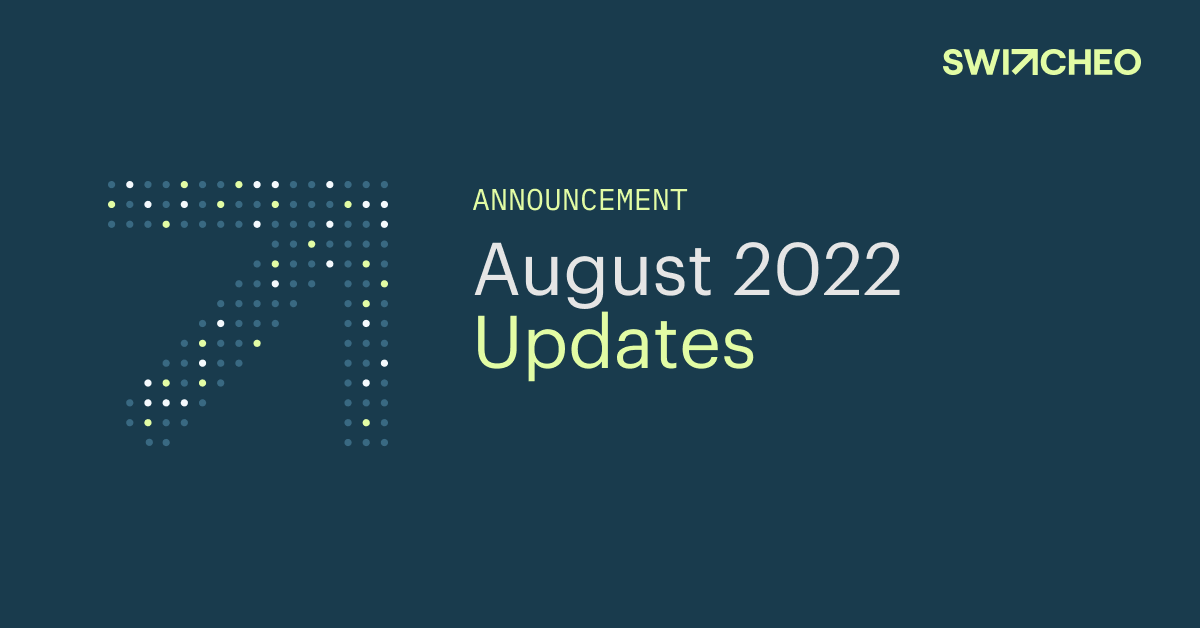 Talks of the Ethereum Merge has been flooding the cryptocurrency headlines; In an industry as fast-paced as the DeFi one, it's a timely reminder that building consistently is what helps a project go the distance in the long run. Holding fast to this ideology, the team at Switcheo Labs has also been pushing out a series of upgrades to realize our original vision  — Without further ado, let's uncover what transpired in August.
1. Carbon
To date, the Carbon Protocol has generated over 30,700,000 blocks securely, with over 70.6% (1.19 billion) of SWTH staked to the protocol's network of validators. For Carbon's latest statistics, check out Carbonscan, the chain's block explorer.
1.1. Hydrogen: Phase 1 — Monitoring Dashboard
Hydrogen is a decentralized relayer network that handles cross-chain transfers for Carbon. The monitoring dashboard, released during the first phase of Hydrogen, displays all the relays and transfers bridged to and fro all supported chains on Carbon, through Cosmos IBC and Poly Network.
While Carbonscan grants users transparent access to transactions occurring on the Carbon blockchain, Hydrogen's monitoring dashboard empowers users with greater visibility of cross-chain transactions between Carbon and other protocols.
Check out the announcement below for more details:
In Phase 2, Carbon will be launching a decentralized relayer network. To find out more, check out the protocol's roadmap here.
1.2. Track Carbon and Demex on DeFi Llama
Total Value Locked (TVL) is the amount of user funds deposited in a DeFi protocol (from staking, liquidity pools, or lending). As DeFi platforms need capital in the form of liquidity or collateral in trading pools, TVL is an integral indicator for the growth of the overall DeFi landscape.
DeFi Llama is a decentralized analytics dashboard that tracks the TVL of projects in the DeFi ecosystem. The amount of TVL locked is not only an indicator of the value of assets in the protocol but also a gauge for determining a protocol's overall health. With Demex and Carbon listed on DeFi Llama, users now have easy access to the duo's TVL, aiding users to make better investment decisions.
To track Carbon's TVL, click here. To track Demex's TVL, click here. To view Demex's pools and corresponding APYs, click here.
1.3. Public Community Nodes
The intention behind having a list of public nodes to be community-run and maintained is simple. Besides allowing for anyone who is willing and able to run a node to do so, this also scores a win for the overall decentralization of Carbon. With more community members running their own nodes from geographically diverse locations, this builds up the resilience of the network.  
Users benefit from having multiple node providers to choose and switch from in the case of a node failure, or in a worse-case scenario, coordinated network attack. On top of this, chances of finding good latency for users, i.e. faster transaction execution, is greatly enhanced as well.
For more information on public community nodes, click here. To set up your own RPC nodes on Carbon, click here.
1.3.1. Welcoming Blockhunters' Public RPC Node

With the inauguration of the Public Community Nodes on Carbon, Blockhunters has joined the initiative and made their RPC nodes public.
This means that when accessing dApps built on Carbon (e.g. Demex or Carbonscan), users can now alternate between Switcheo Labs' and Blockhunters' nodes to achieve peak loading performance.
1.4. Podcast Episode with Citizen Cosmos
Carbon is back with another AMA with Ivan, co-founder of Switcheo Labs. This time round, Ivan sat in for a podcast episode with Citizen Cosmos.
For those of you who missed it, but would like to listen in on the episode, the podcast is recorded on Citizen Cosmos here.
To avoid missing out on important updates and news in the future, follow us on our socials here and here.
2. Demex
2.1. Allocating 4x reward weights to the ATOM/SWTH pair
Following Carbon's integration with Cosmos Hub, a proposal to allocate reward weights for the ATOM/SWTH pair was submitted. To incentivize users to trade on the pair and drive higher liquidity, in accordance with CIP-10, a 4x reward was granted to the pool. Click here to view the full proposal on Commonwealth.
Liquidity providers can enjoy up to 175.8% APR*  (*at time of writing) by providing liquidity to the ATOM/SWTH pool on Demex.
2.2. Demex Reimagined — Pools and Deposit/Withdraw UI Refresh
Demex Reimagined marks the series of power features and UI revamps rolled out periodically over the past few months. This August, the team released its latest UI refresh, comprising of the Pools and Deposit/Withdraw pages.
At Demex, user experience is prioritized, starting from the polished and intuitive dark-mode interfaces. Check out the new Pools, Deposit and Withdraw pages on Demex.
2.3. Going strong: Maker vs Taker 2.0 Futures Trading Competition
The Maker vs Taker 2.0 Futures Trading Competition has officially entered its final month. Happening until 30 September, 2022 8AM (UTC), traders can trade on the BTCUSD or ETHUSD futures markets with $USDC as collateral, at up to 50x leverage, for a chance to win from a $20,000 prize pool (with further maker incentives to be earned on Demex).
Please note that as of 3 August 2022, there has been a change in maker incentives:
To date, the BTC/USD and ETH/USD futures markets has garnered close to 4.9mil and 4.4 mil total volume respectively.
For more information about competition guidelines, rules and prizes, click here. To see where you rank on the leaderboard, click here.
2.4. Demex Signals
With this latest installation, traders can now enjoy bite-sized, weekly bull and bear trade ideas; To get first hand news on Demex Signals, follow Demex on Twitter.
Note: Please do your own research before carrying out the trades. Cryptocurrencies and digital tokens are subject to high market volatility and risk, and are out of Demex's control and sphere of influence. Demex shall not be liable to any losses or damages.
3. Zolar
3.1. Mission II — Phase I: Inspect Your Metazoa Army
Over in the Zolarverse, things are heating up as Metazoa everywhere gear up for a renewed battle. Kickstarting Mission II: The Right to Bear Arms, in Phase I, players can now go to zolar.io/metazoa to check out their Metazoa's new stats.
Each Metazoa's starting stats will be determined by their Base Class, Stat Bonus Genes and Rarity. As an added bonus, Commanders who participated in the previous Elder Quest will have 10% of the Elderberries collected airdropped to them.
There's been some changes made to Mission II:
To be constantly updated with the newest Zolar's events, be sure to follow the team on Twitter and Discord. For more information on Mission II, head over here.
3.2. Unlocking Guild Banks
Captains and Officers, assemble! Guild Banks are now at your disposal; Guild Banks are where Guild members can pool together their in-game assets as they march towards a common goal — To be the best Guild across the wide Zolarverse.
Prestige and power bestowed upon Captains and Officers include (amongst others):
Add/Remove Liquidity and Claim Rewards from Magic Hive
Withdraw Assets from Guild Bank
Approve/Cancel Withdrawal Requests
Send unstable HUNY to their Guild's Refinery
Collect Weekly Tax from Guild members
Captains, from Joining Fees and Weekly Taxes to Multisig, click here to find out  how to configure your Guild Bank Settings.
Intrigued and want to join a Guild? Click here to find out how!
3.3. Zolar x Soulless Citadel NFT Giveaway
Over at camp Zolar, this month, we held a joint NFT giveaway with Soulless Citadel.
And with that, we're thrilled to announce that we have a winner — Congratulations, juno_xz! We hope you're pleased with your new addition.
3.4. Metazoa collection listed on WEYU!
WEYU is a multi-chain NFT market that facilitates the resale of NFTs. With the conclusion of Mission I: Takers of the Moon, all Metazoa have been summoned. To join the battle in Mission II, players will have to purchase a Metazoa from NFT marketplaces.
Previously only available on ARKY, with the listing of the Metaoza collection on WEYU, players now have another avenue to purchase their Metazoa from.
Yet to get your hands on a Metazoa? This is your sign, friend.
4. OG The Bear Market (TBM) Reward Distribution on ZilSwap
Hola, OG TBM pawrents!

Previously, as a gesture of goodwill and to express our gratitude to our loyal supporters and holders of The Bear Market NFT, the team announced that 15% of all platform fees earned on ARKY will be airdropped to those who have held their bear NFT(s) for more than 30 days. On top of that, 100% of all royalty fees from TBM sales on ARKY will also be donated to those who have held their bear NFT(s) for more than 30 days.
Wait no longer, for your rewards have been distributed and are now ready to be claimed! For more information on TBM perks, click here.
5. Switcheo Research
The team at Switcheo Research are on a roll this month. Check out the articles below to keep updated with the latest happenings in the space —
Research
Strategies
To get first-hand news from Switcheo Research, follow us on our socials: Twitter, Telegram and Discord.
6. What's next?
As we enter the new month,
Carbon's V2.9.0 Software Upgrade proposal has since been passed. The upgrade consists of perpetual swaps, flexible network fees and referral module. Validators must complete the pre-upgrade steps by block height 31113322, which will happen around Thursday, September 8, 2022 6:43 PM, GMT+8. To track the upgrade, click here.
P.S. Keep an eye out for these features on Demex across the month!
In other important news, Carbon has announced its very own money market, as well as a Cosmos-native Carbon stablecoin. To keep up to date with Carbon's latest progress, check out the protocol roadmap.
Over in the Zolarverse, Phase II of Mission II has been unlocked. Equipped with their new stats, Metazoa will now have to choose, with careful deliberation, their preferred Profession; Are you a Marauder, Astrominer or Psionic? To decide which Profession suits you best, head on here.
September already looks promising — Catch you at the next update!