Welcome to our monthly update covering the latest happenings in the Carbon ecosystem. Let's dive in!
1. Carbon
The continuous progress and growth of Carbon are a testament to the dedication and engagement of its participants. Let's delve into some of the recent highlights that have been shaping the Carbon ecosystem!
1.1. Governance Proposals
The Carbon ecosystem is thriving with a flurry of exciting activities and developments, all made possible by the collaborative efforts and consensus of the community.
[CIP-50] Change reward delay for Alliance assets to 3 days
A proposal was submitted to reduce the reward delay time for Alliance assets from 7 days to 3 days. This change aims to provide stakers with quicker access to rewards, making the staking experience more efficient and user-friendly. You can review the proposal and participate in the discussion on Carbonscan here and here.
[CIP-51] Enable ampLUNA and stLUNA as Alliance assets on Carbon
Another proposal has been submitted to enable ampLUNA and stLUNA as Alliance assets on Carbon, providing users with the opportunity to stake and reap the rewards associated with these assets, thereby broadening the range of options available to stakers within the Carbon ecosystem. To join the discussion on this proposal, visit this link.
Exciting news follows the successful passing of the aforementioned proposal, as ampLUNA and stLUNA have now been officially whitelisted as Alliance assets on Carbon!
Users can now engage with these assets and explore the potential they hold within the Carbon ecosystem. This development further enhances the versatility and value of the Carbon platform.
To begin your Alliance staking journey on Carbon, click here.
Carbon x Stride Alliance Proposal: Allocate STRD incentives from STRD community pool for STRD lending pool on Carbon
In a strategic move, Carbon has put forth a proposal to allocate STRD incentives from the STRD community pool, with the intention of bolstering the STRD lending pool on Carbon. This proposal is driven by the objective of enhancing the utility and adoption of the STRD token, while simultaneously fostering a stronger alliance between Carbon and Stride. By incentivizing the utilization of the STRD lending pool, Carbon aims to promote growth, liquidity, and awareness of the Carbon-Stride partnership.
To learn more about this proposal, click here.
1.2. Twitter Spaces
Carbon <> Demex <> StaFiHub: All you need to know about rSWTH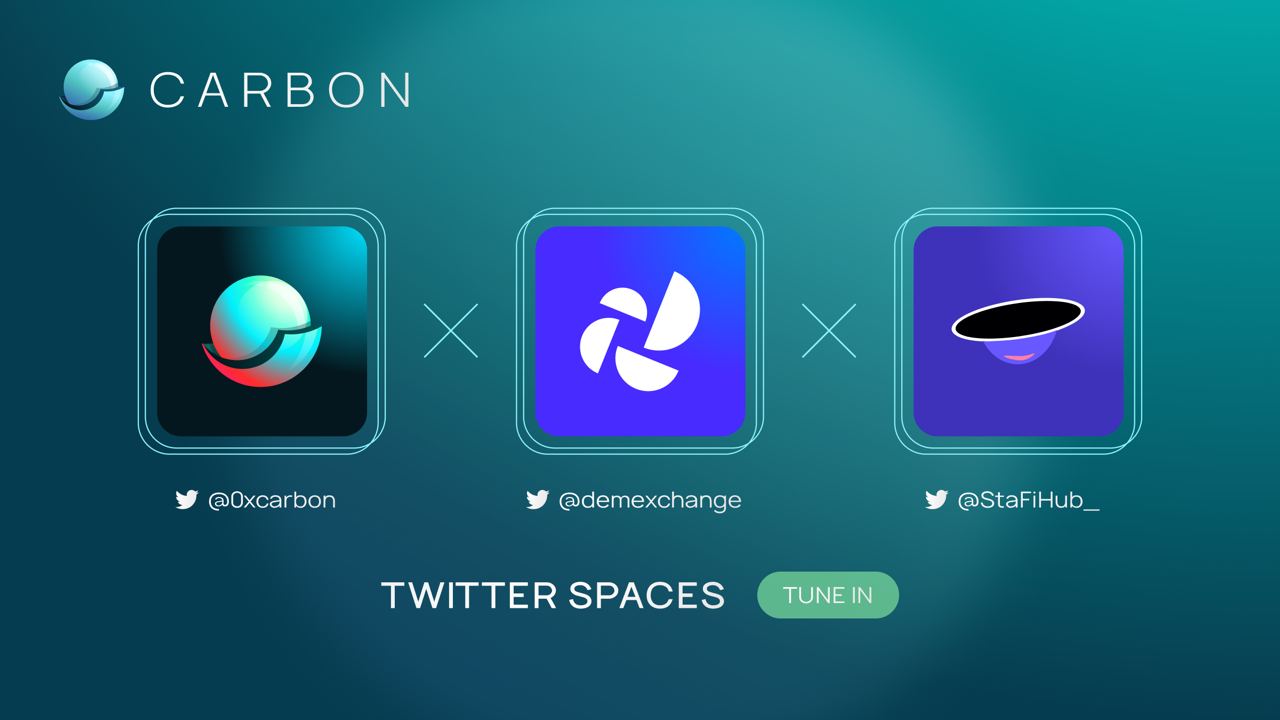 The Carbon ecosystem kicked off May with a significant collaboration between Carbon, Demex, and StaFiHub, introducing rSWTH.
This integration aims to enhance the interoperability and liquidity of SWTH, the native token of the Carbon ecosystem. The rSWTH token will allow users to bridge their staked SWTH assets across different networks, opening up new possibilities for seamless transactions and access to various DeFi applications.
To learn more about the collaboration, check out the Twitter space session hosted by Carbon here!
Cosmos Club: Catching up with Carbon and Demex
Recently, Carbon and Demex were featured in a Twitter Spaces hosted by Cosmos Club, providing us with an opportunity to discuss the progress and future plans of the Cosmos ecosystem.
If you missed the event, don't worry! You can catch up on the discussions by visiting this link.
Potential Carbon <> WhiteWhale Alliance
During a recent Spaces session, Carbon delved into the exciting prospects of forming an Alliance with WhiteWhale, introducing a myriad of new possibilities to the Carbon ecosystem.
WhiteWhale, a decentralized liquidity protocol, is actively seeking to establish a two-way Alliance with Carbon. This collaboration aims to broaden the selection of Alliance assets and bolster liquidity within the Carbon platform. By joining forces, Carbon solidifies its position as a prominent decentralized protocol, while simultaneously driving innovation and growth within the ecosystem!
2. Carbonhub
Welcoming Leap Wallet to Carbonhub!
Carbonhub, the gateway to the Carbon ecosystem, has introduced support for Leap Wallet. Leap Wallet serves as the super wallet for IBC, enabling seamless transactions and interactions with Cosmos chains. This integration enhances convenience and accessibility for Carbon users. To download Leap Wallet and explore the Carbon ecosystem, visit: link
3. Demex
3.1. Leap Ahead with Demex
Demex has collaborated with Leap to introduce an exciting new trading opportunity for its users! With Leap Mobile, users can now trade any market on Demex while on the go, expanding the possibilities and convenience for traders.
To encourage users to trade via Leap Mobile, a trading event was organized from 19th to 23rd May, where 10 lucky winners stood a chance to win $50 each.
To be eligible for the prize rewards, participants were required to meet two criteria:
Minimum total trading volume of $500 USD by the conclusion of the event
Orders had to be filled during the event period
This trading event demonstrates Demex's commitment to providing a seamless and user-friendly trading experience for its community, empowering traders to access markets and seize opportunities wherever they are.
3.2. LSI-Perp Market
Carbon recently unveiled its inaugural index known as the Liquid Staked Index (LSI), which encompasses the governance tokens of prominent liquid staking protocols.
The LSI comprises the tokens of major protocols including Lido (LDO), Rocket Pool (RPL), Frax (FXS), Ankr (ANKR), Stride (STRD), and Stafi (FIS).
By creating the LSI, Carbon has provided users with a convenient and diversified option to gain exposure to the governance tokens of various liquid staking projects, reflecting Carbon's commitment to fostering innovation and expanding yield opportunities within the ecosystem.
Learn more in this article here!
Continuing its tradition of embracing the latest advancements in DeFi, Demex introduced an exciting trading option: LSI-perp!
This enables users to easily go long or short on the top Liquid Staked Derivative (LSD) protocols with just a single click. With LSI-perp, traders can efficiently capitalize on the dynamic nature of the market and navigate the ever-changing DeFi landscape with ease.
To explore LSI-perp and start trading, click here!
3.3. DEC/USD Spot Market
That's not all! Demex continues to expand its market offerings by introducing a DEC/USD market.
This addition provides traders with new opportunities to explore and engage with different assets on Demex.
Begin your trading journey here!
3.4. Demex Trading League (Round 2)
The second round of the Demex Trading League has recently come to a close, offering traders an exciting opportunity to compete for a share of the $3000 prize pool!
By actively engaging in perpetuals and spot trading during the event, participants had the chance to boost their odds of winning.
This initiative aimed to encourage traders to showcase their skills and expertise while also rewarding traders for their dedication and performance. Congratulations, all winners!
3.6. Demex blog
In the fast-paced realm of trading, staying ahead of the curve is crucial. That's why Demex brings you its comprehensive blog, serving as your go-to resource for all things Demex.
Immerse yourself in a wealth of exciting content and invaluable insights designed to enhance your trading journey - Whether you're a seasoned trader or just starting out, the Demex blog is a valuable tool to expand your knowledge and stay informed about the latest trends, strategies, and developments in the trading space!
Explore the Demex blog today at https://blog.dem.exchange/ and elevate your trading experience to new heights!
3.6. Demex Fee Structure
Demex has recently unveiled its plans to implement a revamped fee structure that takes into account the amount of SWTH tokens staked by users!
This new system offers enticing benefits to traders, as the more SWTH they stake, the greater the discounts and savings they can enjoy on trading fees.
By incentivizing users to stake their SWTH tokens, Demex not only enhances the security and stability of the ecosystem but also rewards loyal participants with more favourable trading fees. This innovative approach aims to foster a thriving community of active stakers while providing traders with increased cost savings, thus creating a win-win scenario for all participants within the Carbon ecosystem.
The new fee structure is set to go live on Demex following the v2.26.0 Software Upgrade on Carbon. Stay tuned!
3.7. Native USDC
Circle has recently made a significant move by launching USDC natively on the Arbitrum network, paving the way for the eventual replacement of the bridged version of USDC from Ethereum.
Building upon this development, Demex is delighted to announce the addition of native USDC (Arbitrum) to the whitelist of USD-backed stablecoins within the Carbon grouped $USD token!
This inclusion further aggregates the liquidity of $USD to Demex, empowering users to participate in trading activities on spot and perpetual markets quoted in USD. By harnessing the benefits of native $USD liquidity, Demex aims to deliver a superior trading experience for its users!
3.8. Chart Trading
Demex has recently rolled out an enhanced TradingView charts feature that takes the trading experience to the next level. With this upgrade, users now have the ability to trade directly from the charts, streamlining the process of analyzing market trends and executing trades.
Trade smarter and faster with Demex by leveraging the power of the upgraded TradingView charts feature!
4. Nitron
4.1. STRD Incentives on Nitron
In a significant development, the first-ever Stride Community Pool Spend proposal has been successfully passed, marking a major milestone for the Stride ecosystem.
This exciting news opens up a host of opportunities for STRD token holders, including the chance to earn lucrative STRD incentives on the Nitron platform! By lending your STRD tokens, you can take advantage of the incredible earning potential with over 40% APR up for grabs!*
Start your lending journey on Nitron today and unlock the full potential of your STRD tokens!
*Rate at time of writing
5. What's next?
That concludes our monthly update on the Carbon ecosystem for the month of May. Stay tuned for more exciting developments and collaborations in the coming months as the Carbon ecosystem continues to innovate and expand its offerings!