Are you holding a dead coin where there's no more hope of a comeback?
The bear market has finally come and washed away a lot of hype and fluff. Projects that sold hope and dreams during the bull market's peak have largely left their token holders in the dust.
However, there are still many projects that are alive, with active development, marketing, and community during this downturn.
One of the most common and simplest ways of seeing if an altcoin is still alive is by checking that their TVL and volume on Defillama and Coingecko is healthy and growing, but how can we go one step further?
Let's explore 3 more ways you can see if your altcoin is still alive in a bear market.
1. Developer Activity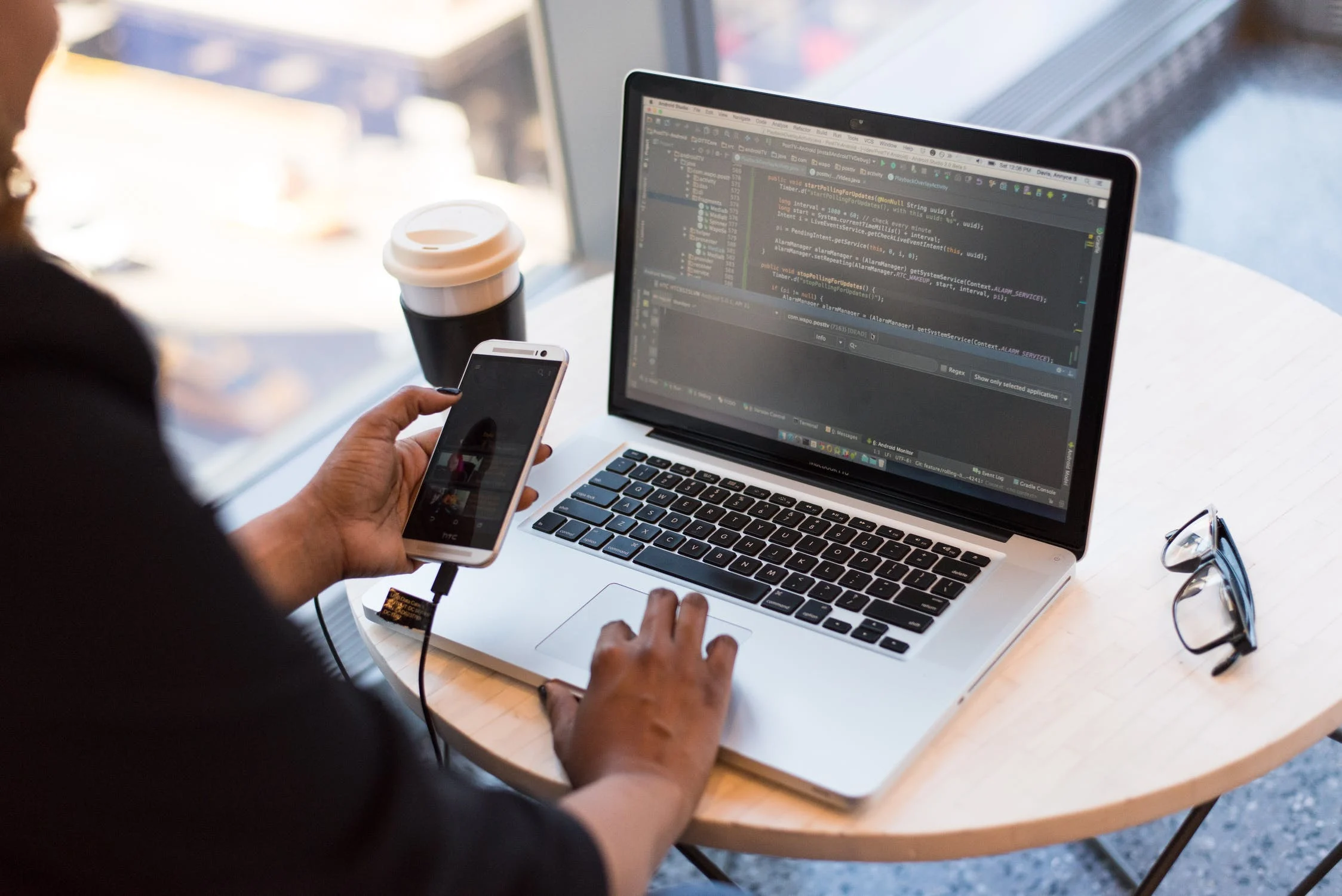 One of the key factors in determining if a project will survive is the amount of development the project is doing, especially in a bear market. Hence the first way would be to check for developer activity.
Let's use Solana as an example. Most developers would publish their code on github.com and that's where we will start.
Once we are on the website, we will search Solana. Usually, the first repo link or the one with the highest stars is the most relevant one.
Once you are there, click on 'Insights'.
Here you can see all the pull requests, which are basically updates. Usually, if there is a growth in the updates, commits, and contributors, it means the developer activity is growing and that increases the chance that they will eventually launch a new feature update to improve the protocol.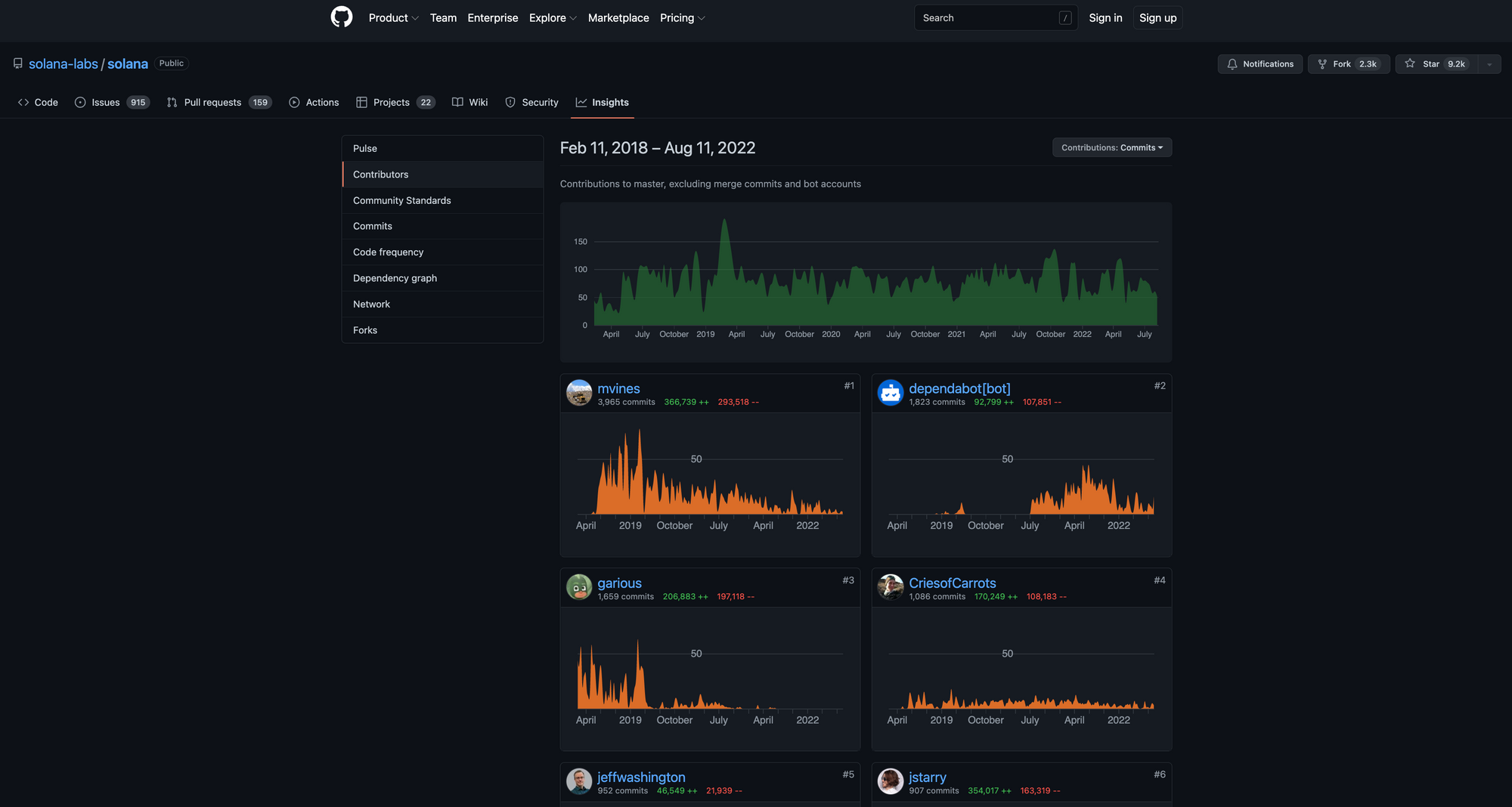 You can even click on the individual developers and see their contributions and how often they push an update or see what they are working on. This method of stalking developers who publish open-source code can occasionally lead to alpha before the rest of the market realizes that a big update is coming.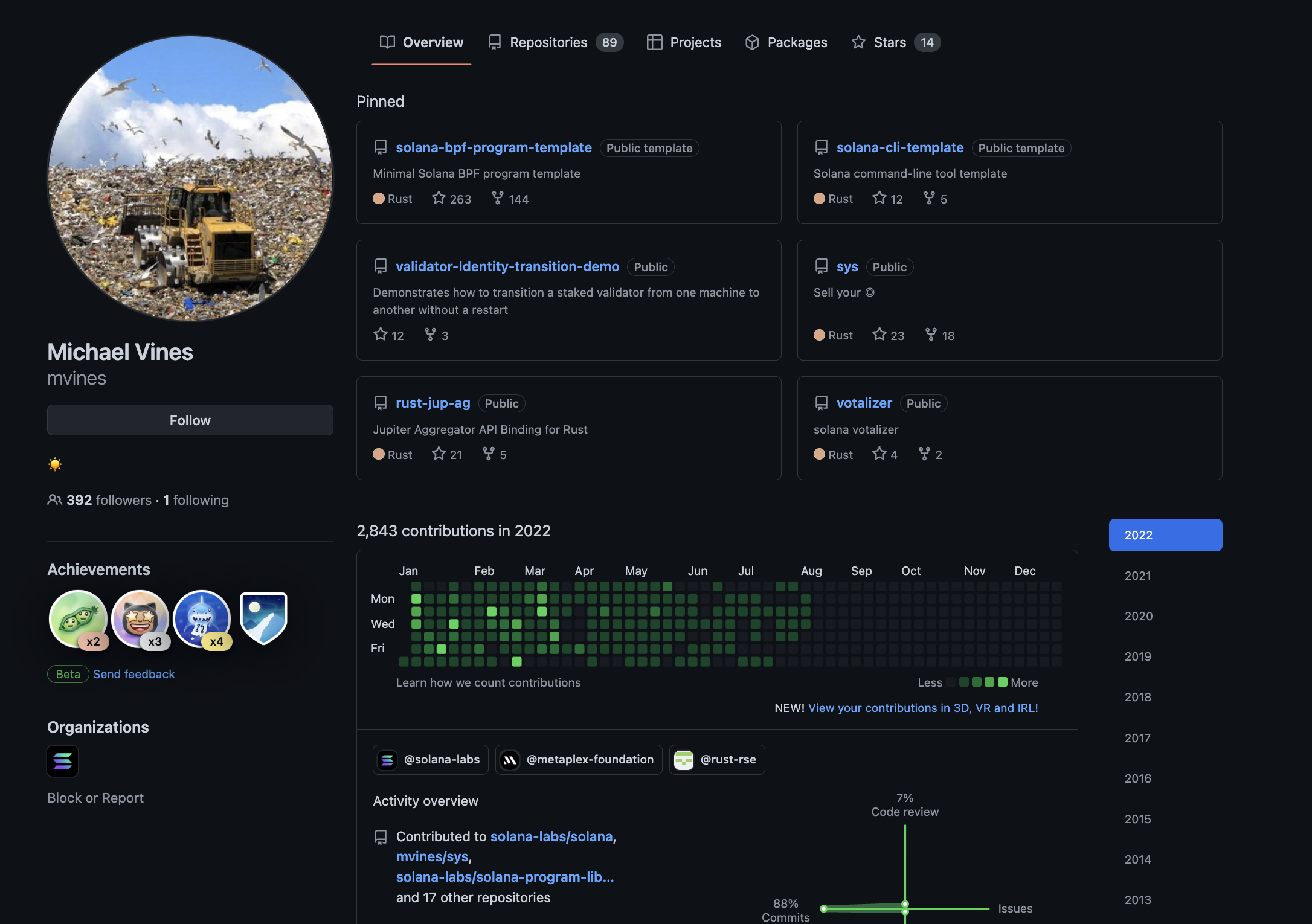 Searching through repositories should give you the best indication of developer activity and maybe even some alpha, but it can be rather time-consuming.
Luckily we have two websites that can help us do a high-level sweep, cryptomiso.com and coingecko.com.
Cryptomiso shows the protocols with the highest amount of commits. The current top few protocols right now include Mina protocol, Solana, ICP, Fei protocol.

However, this website is not 100% accurate. It is best to find the individual developers and check their commits to get a better picture. For this, we refer to coingecko.com. Search the token you are interested in and go to the developer tab.

If we look at Solana, we can see that the developer activity is still active but slowly decreasing. Ideally, we want to see commit activity increasing but seeing activity is a sign that the project is still alive from a development point of view.
On the other hand, if we look at Atom, there is an uptrend in developer activity. This is an indication that when the market turns around bullish again, Atom might be releasing a lot of updates and it might be good to invest now while it is in a bear market.

With this method, you should be able to get an idea of the developer activity of your token. If there are no commits throughout the entire bear market, that would be concerning but it is not the end of the project. Also, developer activity can be faked by creating a bunch of useless commits, so it is important that you do not use this as the only indicator for your investment, and should combine it with various other factors and indicators as well.  
It is also important to note that not all developers publish their GitHub code publicly. They may be using a private repository so you may not see a lot of developer activity but they are secretly working on it before they release it all at once or continue to keep it private for security or intellectual property reasons.
With that, let's move on to the next important way to determine if your project is alive in a bear market.
2. Social Presence
Social media, community size, and marketing campaigns are all important factors to look at to see if a token is alive.
A strong social presence usually results in a stronger community. This is important to the token, as without a community, it will probably not have much demand from an adoption or investment standpoint. Some would say that a strong community is often more important to drive price action than a strong developer activity, in the short-term at least.
For this metric, we would look at lunarcrush.com, socialblade.com and similarweb.com.
Using lunarcrush, you can look at the social engagement and mentions across various timeframes and see how active the social engagement is. You want social engagement and social mentions to be increasing over time.
For example, looking at Ethereum, the blue and orange line represents social engagement and mentions. They continued to climb after the end of June, which in this case correlates well with the price.

Additionally, using socialblade.com, we can see the social media growth of various protocols. In Ethereum's case, it has continued to gain traction on Twitter.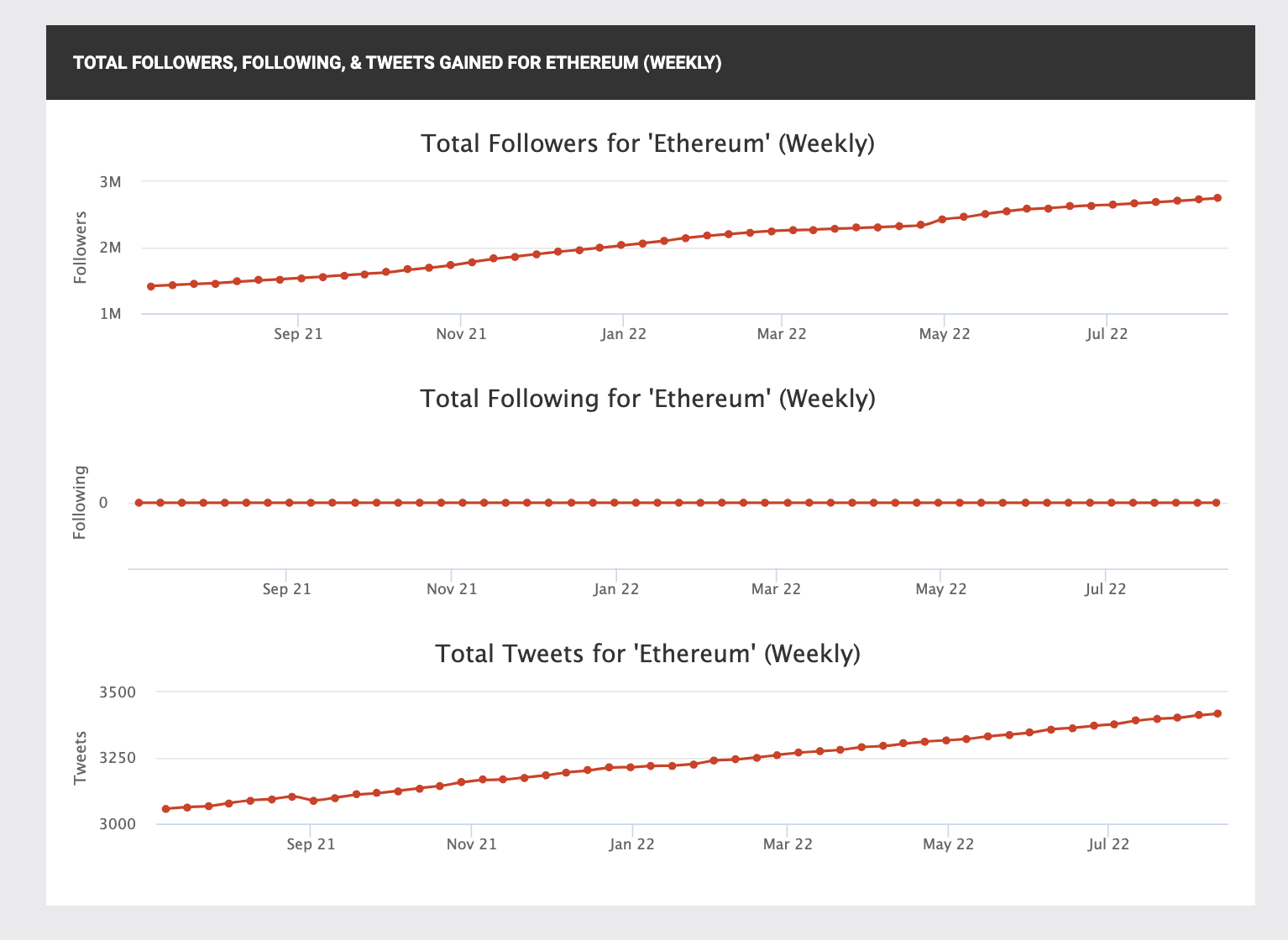 They have been averaging 10k - 30k followers per week since 2022.  
Alternatively, if we compare Ethereum with another top market cap crypto project like Polkadot, their social engagement and mentions have not been increasing, thus the price likely will not pick up as fast in an uptrend.

Looking at socialblade, the weekly follower gain has been on a downtrend, with an average gain of about 2k - 6k followers a week.

Another commonly missed metric that is an important metric in web2 but is not often talked about in web3 is web traffic.
Similarweb is a free website that gives you an estimate of the traffic to a website. Usually using the main home page or dapp page gives you a good idea if the traffic is growing or dropping.
In Ethereum's case, it has been dropping but the absolute number remains very high relative to other projects.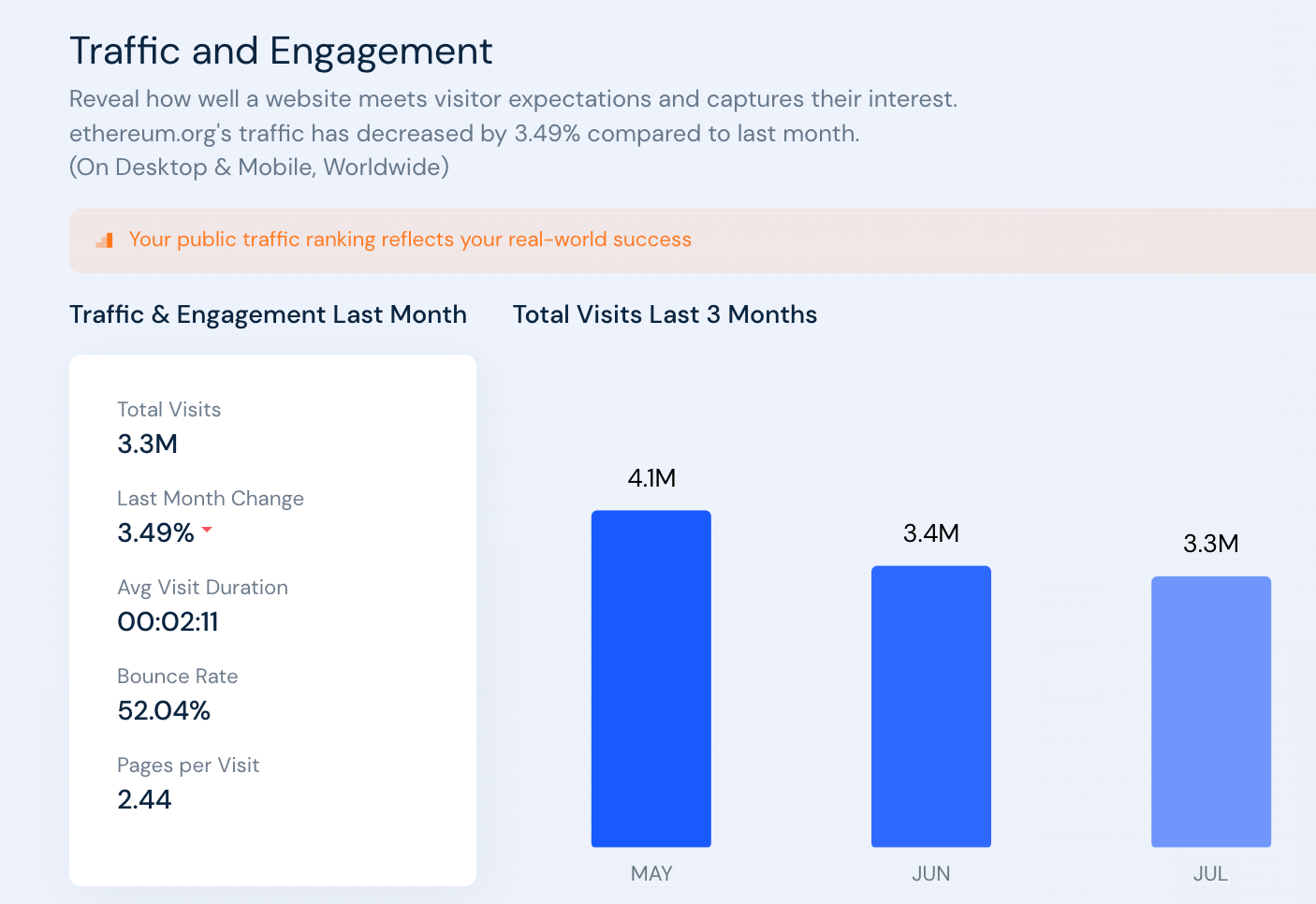 Looking at Polkadot, the numbers increased in June but decreased in July. A clear trend cannot be found.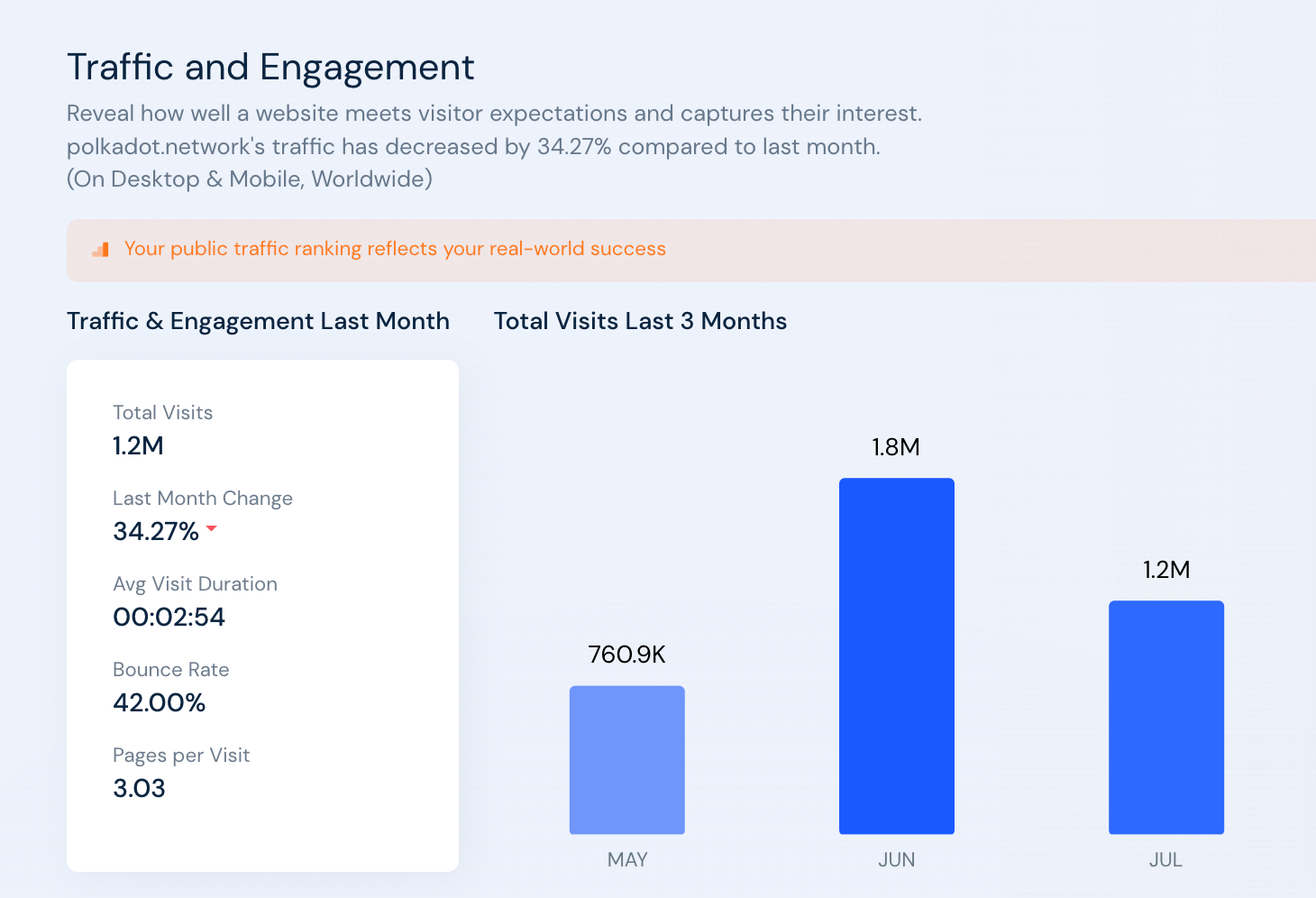 However, looking at another popular protocol, GMX, you can see that the project is growing its visitors which indirectly grows its community,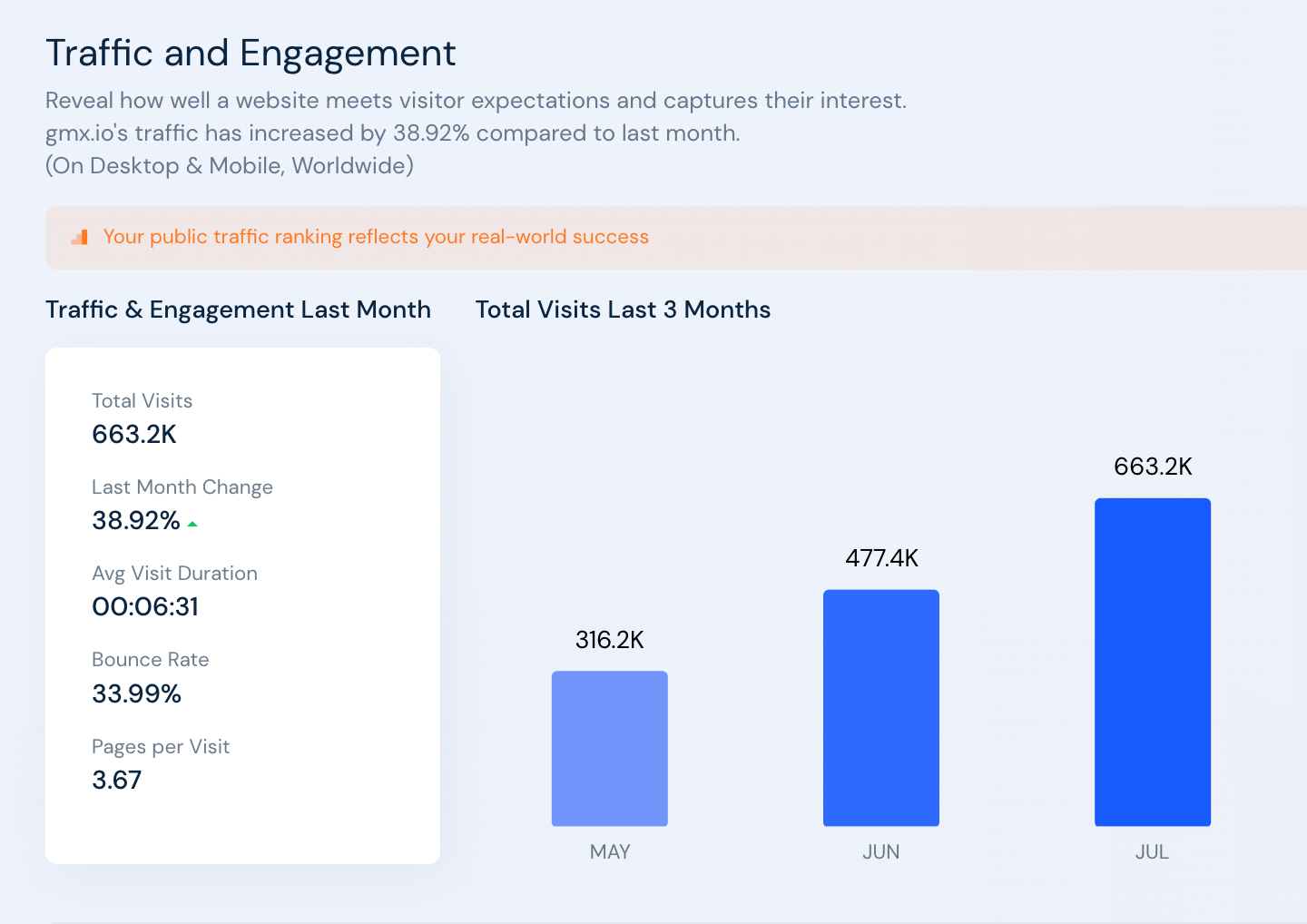 Social media metrics are a type of vanity metric. However in crypto, because token prices are largely driven by narrative and community shills, in the short term, these metrics can provide valuable insight into the effectiveness of the protocol's marketing campaign, and how it leads to the growth of the community, which would usually increase the token price in the short-term due to hype, speculation, and FOMO.
3. Token holders
For the last metric, we will look at the amount of token holders of a protocol. It is evident that if the amount of token holders continues to increase over time, the more likely it is that the community is growing and the project is not dead.
This metric can be found via the explorer for most tokens. We will use etherscan.io for our example. Simply type in the token name and they will display the overview to you. Under the 'Holders:' you can see if the amount of holders have been increasing or decreasing.
In Ethereum's case, the number has been slowly climbing.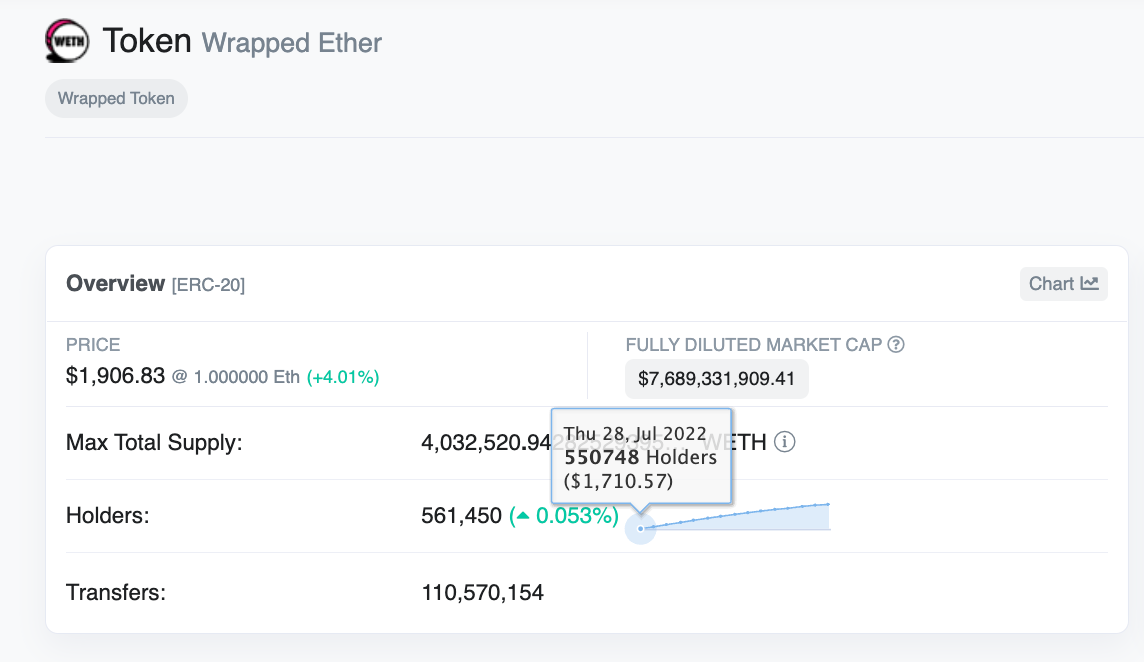 Additionally, we can scroll down and click on the 'Holders' tab to look at the holders, as well as click on the pie chart symbol for a visual view of the token distribution.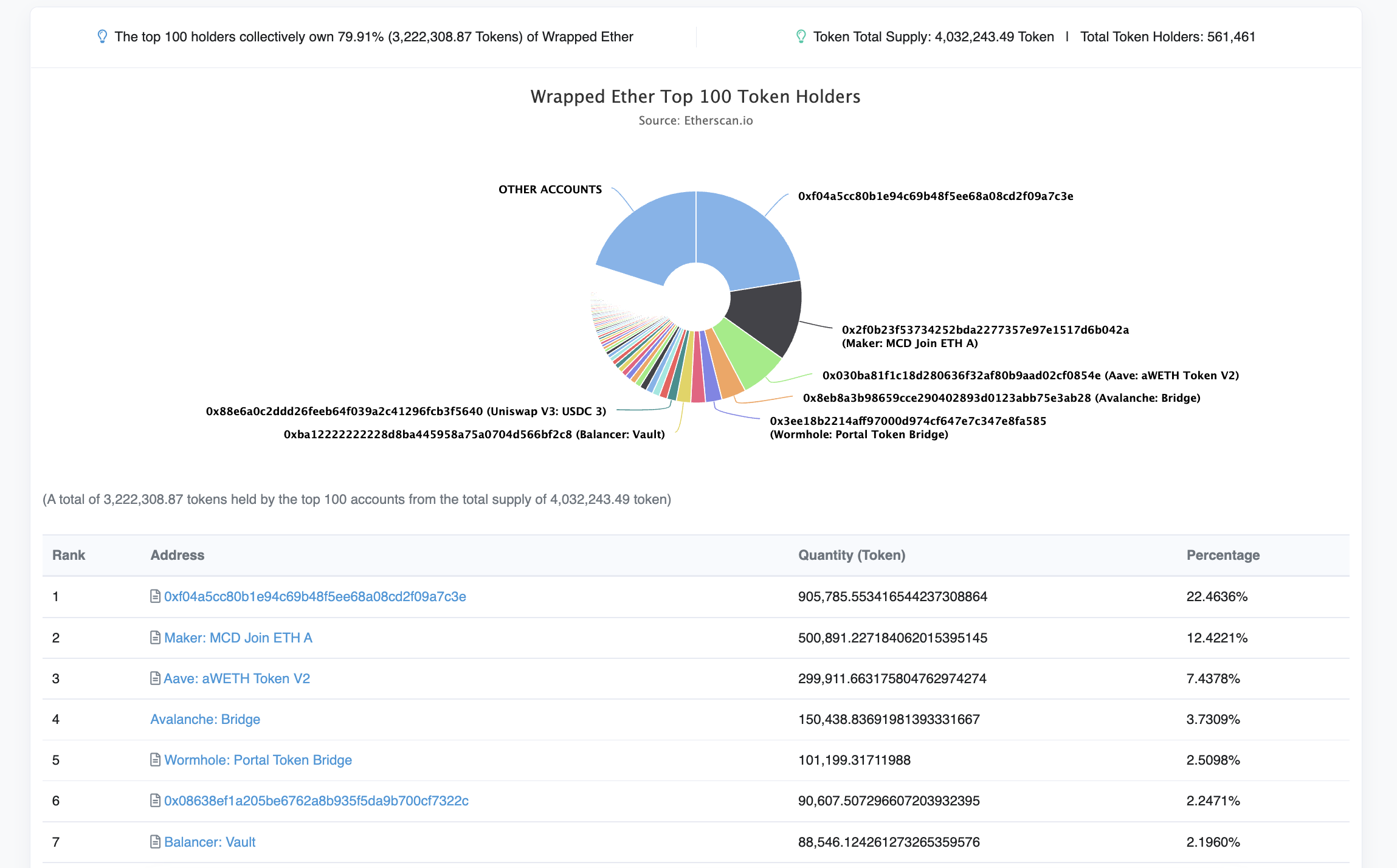 The wider the token distribution, the more decentralized and healthy the community is. It also reduces the impact of the token being dumped by one big whale, which can crash the price and cause investors to lose confidence.  
If more and more token holders sold, the distribution may narrow, which is a sign that the project may be losing its community and may not make a come back.  
Conclusion
Apart from TVL and volume, these 3 types of metrics - developer activity, social presence, and token holders, is a good way to determine if a project is still alive, but it should not be the only indicator that you use in making investment decisions.
Additionally, most protocols have a discord or telegram group where you can talk to the development team directly. It is best to ask questions in those groups or to the developers directly where you can get even more alpha.
We hope you can find some hidden gems using these metrics or incorporate this to improve your existing research methodology!