Introducing Fluo: Revolutionizing Market Making for Perp DEXs
Today, Switcheo Labs is thrilled to unveil a new groundbreaking initiative: Fluo Finance. Fluo is an innovative market making and incentivization platform designed specifically for perpetual decentralized exchanges (Perp DEXs).
Its aim is to empower key participants in the decentralized finance (DeFi) ecosystem, including liquidity providers (LPs), Perp DEXs, protocols, and traders.
Fluo Finance represents a significant leap forward in DeFi by introducing the industry's first omnichain liquidity platform. It enables any user, including those that may not posses expert technical knowledge, to execute market-making strategies and take part in liquidity provision across various chains and Perp DEXs in an automated and dynamic manner.
Fluo aims to support Ethereum, Arbitrum, Carbon, zkSync Era, and BNB Chain in its first phase, with plans for rapid expansion to other chains in the near future.
The primary objective of Fluo is to generate consistent market-making returns for users across the DeFi landscape. By leveraging Fluo's advanced features, market participants can efficiently deploy liquidity across multiple chains and DEXs, maximising their earning potential. Fluo's market making capabilities empower LPs to optimise capital allocation effectively, while its dynamic nature ensures liquidity remains fluid and adaptable to changing market conditions.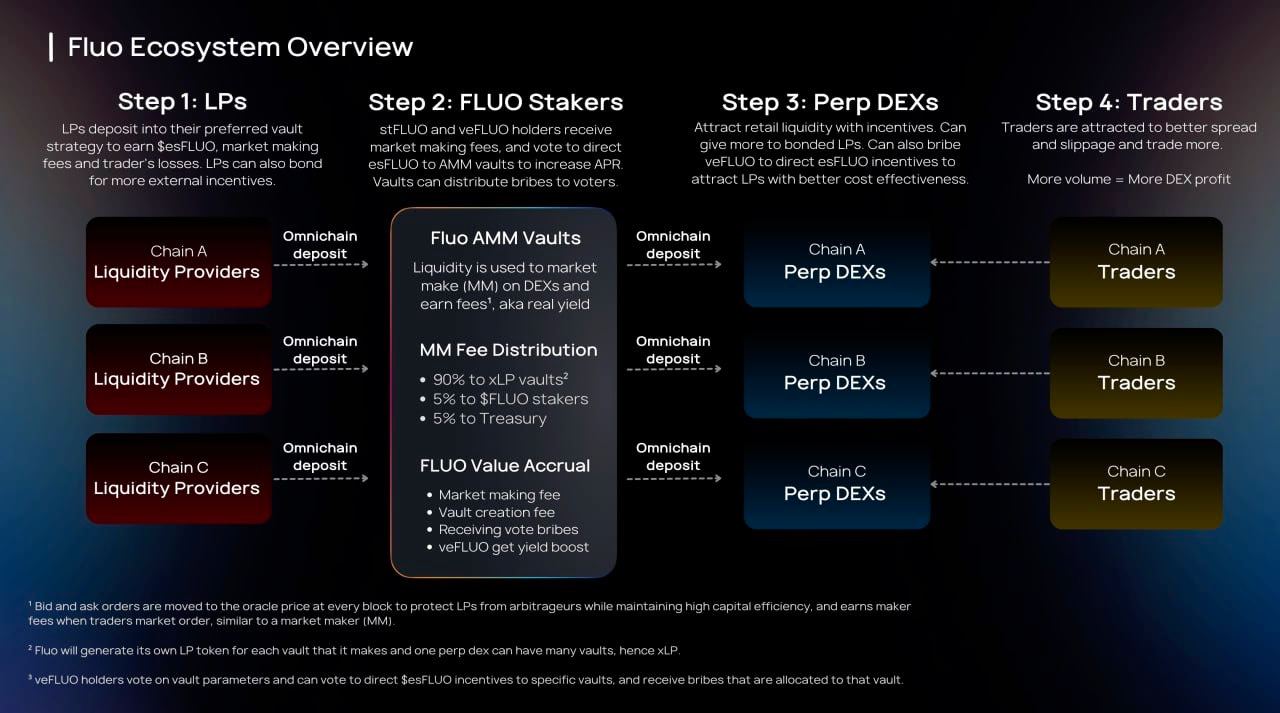 Fluo goes beyond marketing making by incorporating a unique gauge, bribing, and bonding mechanism. This mechanism enables DEXs and protocols to incentivise user liquidity and loyalty. LPs can earn rewards and benefits while contributing to the growth and development of the broader DeFi ecosystem.
"At Switcheo Labs, we continuously push the boundaries of what is possible in DeFi," stated Ivan Poon, CEO of Switcheo Labs. "Fluo introduces an all-encompassing solution that elevates market making and incentivization mechanisms, benefiting every key participant in the DeFi space."
To ensure a seamless user experience and gather valuable feedback, Switcheo Labs will launch a comprehensive testnet phase ahead of the official Fluo launch. This testnet will allow users to familiarize themselves with the platform, explore its features, and provide input to further enhance its performance and functionality.
Switcheo Labs is also excited to announce that a direct integration of Fluo within Demex, the leading derivatives DEX on Carbon is slated to launch soon. Starting from early July, Demex users will be able to experience enhanced liquidity on its perpetual markets through Fluo, and unlock new opportunities for yield generation via Fluo's market making vaults.
Stay up to date with the latest developments and announcements regarding Fluo by visiting the official Fluo Finance Twitter account and exploring the documentation available at the Fluo Finance website.
Switcheo Labs continues to drive innovation in the blockchain industry, and Fluo represents yet another milestone in their mission to reshape and enhance the future of decentralized finance.