*Since the publication of this post, Switcheo TradeHub has been launched and the updated SWTH tokenomics can be found here.
We know you're as excited as us on the upcoming launch of Switcheo TradeHub. We can't wait to stake our Switcheo tokens (SWTH) as well!
We're elated to announce that we now have a go-live date for phase 0 of Switcheo TradeHub! Barring unexpected delays, Switcheo TradeHub will mint its genesis block on 12 August 2020.
If you've been living under a rock or need a quick refresher, check out The Switcheo Token blog series to understand the incentives and benefits of delegating your SWTH tokens to validators!
In the meantime, here's a guide for how to stake SWTH should you wish to take part in this initial phase of Switcheo TradeHub.
Staking SWTH
Here's a step-by-step demonstration of staking SWTH starting from the "Staking Homepage" on Demex.
Step 1: Connect to your Wallet on the top right section of the homepage.
Step 2: Click on "Start Staking" at the top left section of the staking homepage.
Once you click on "Start Staking", the page will move down to the "Validator Pools" section. Here, you will see a list of validator pools you can choose from to delegate your Switcheo tokens.
Step 3: Click on the "Stake" button on the right for the validator of your choosing. We use Everstake as an example in our preview below.
*Do note that the list of validators below are definitely only examples.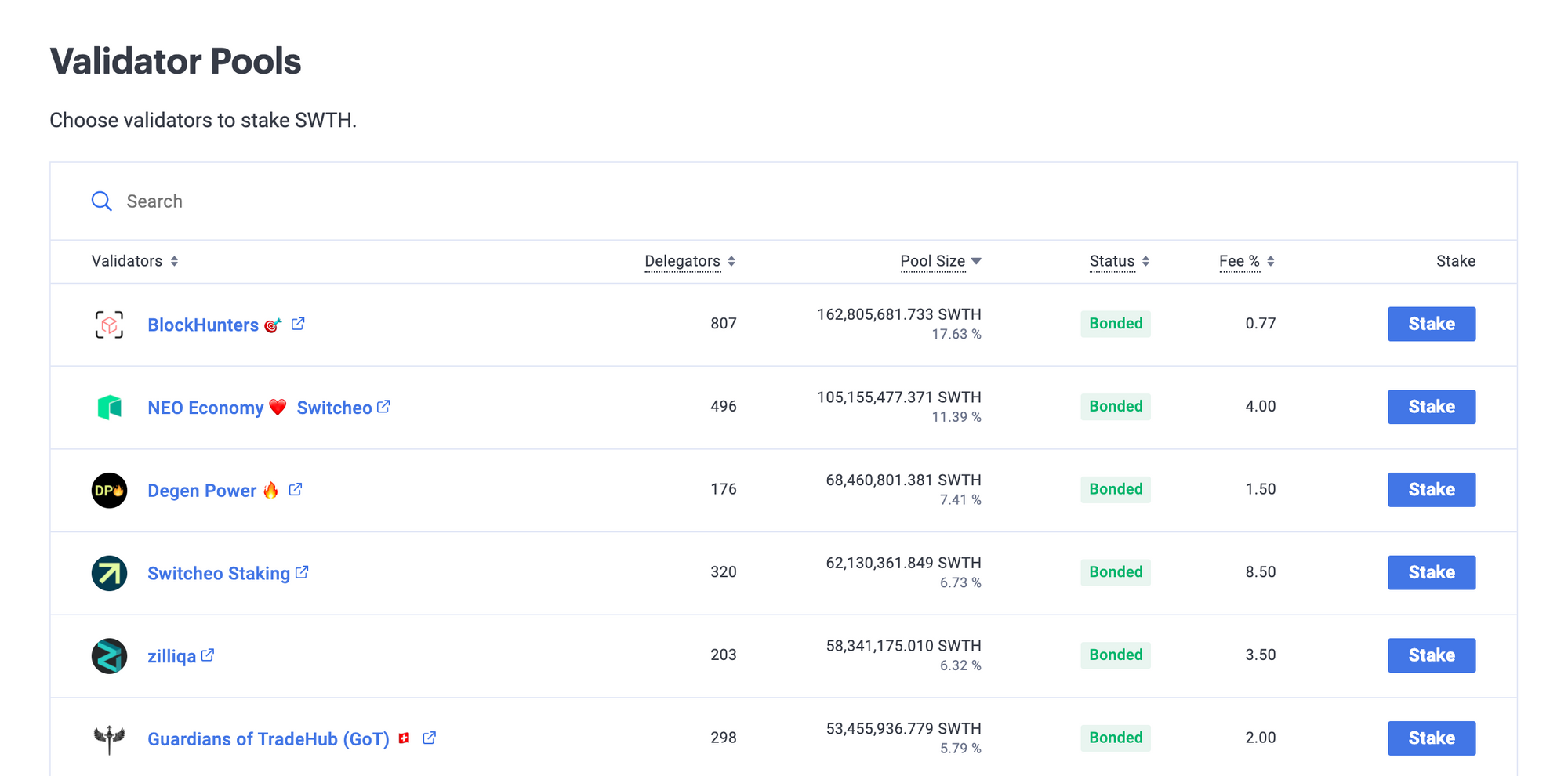 Now, you will see a pop-up on your screen which says "Stake with (validator of your choice)". Here you will need to input the amount of SWTH you wish to stake.
Besides that, you will also see the estimated return % on your stake and the validator's fees.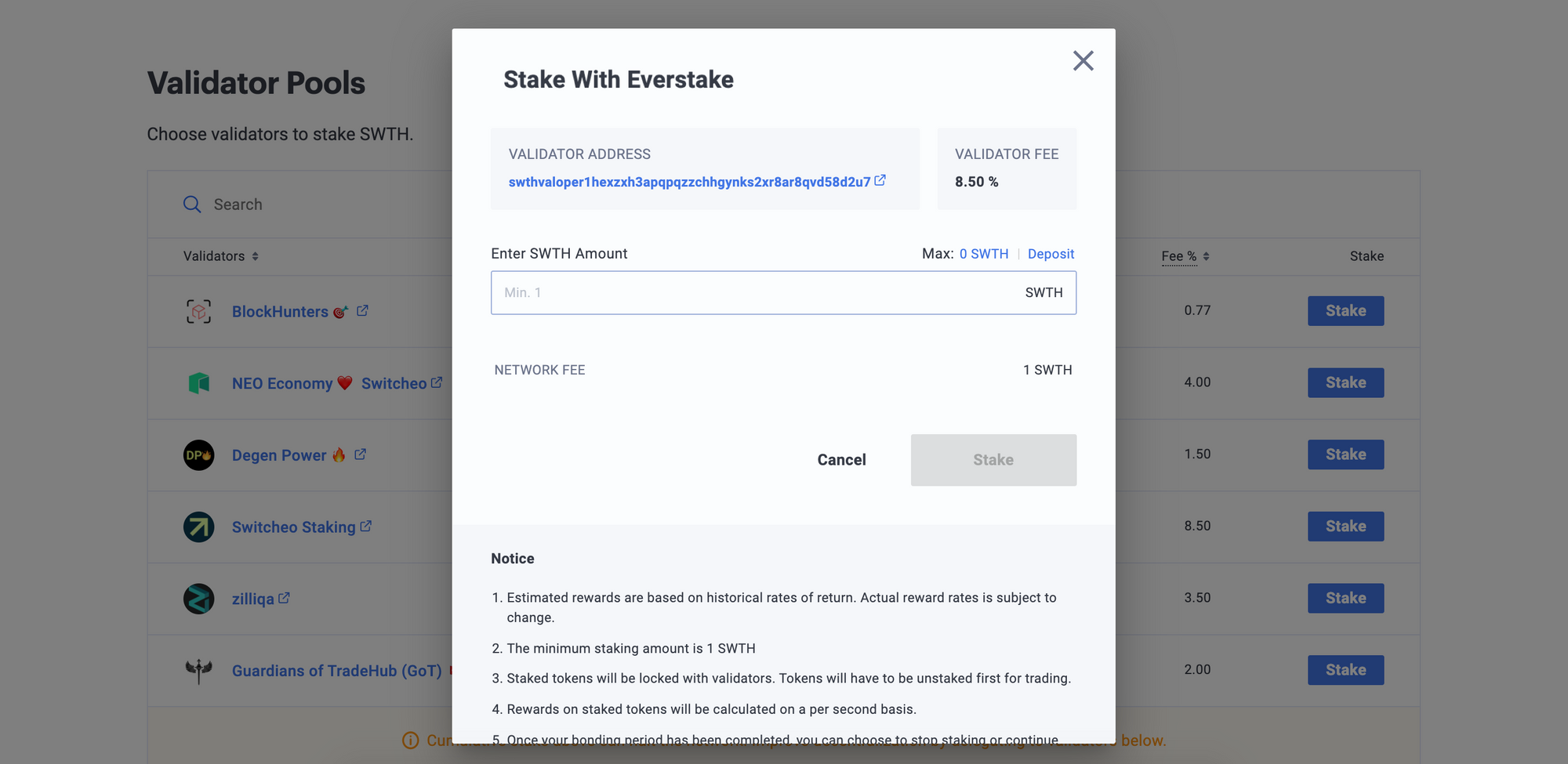 Step 4: Input the number of SWTH you wish to stake and click "Confirm". You have now staked SWTH on our platform!
Step 5: The details of your confirmed stake will be displayed on the "My Staked SWTH" page for reference.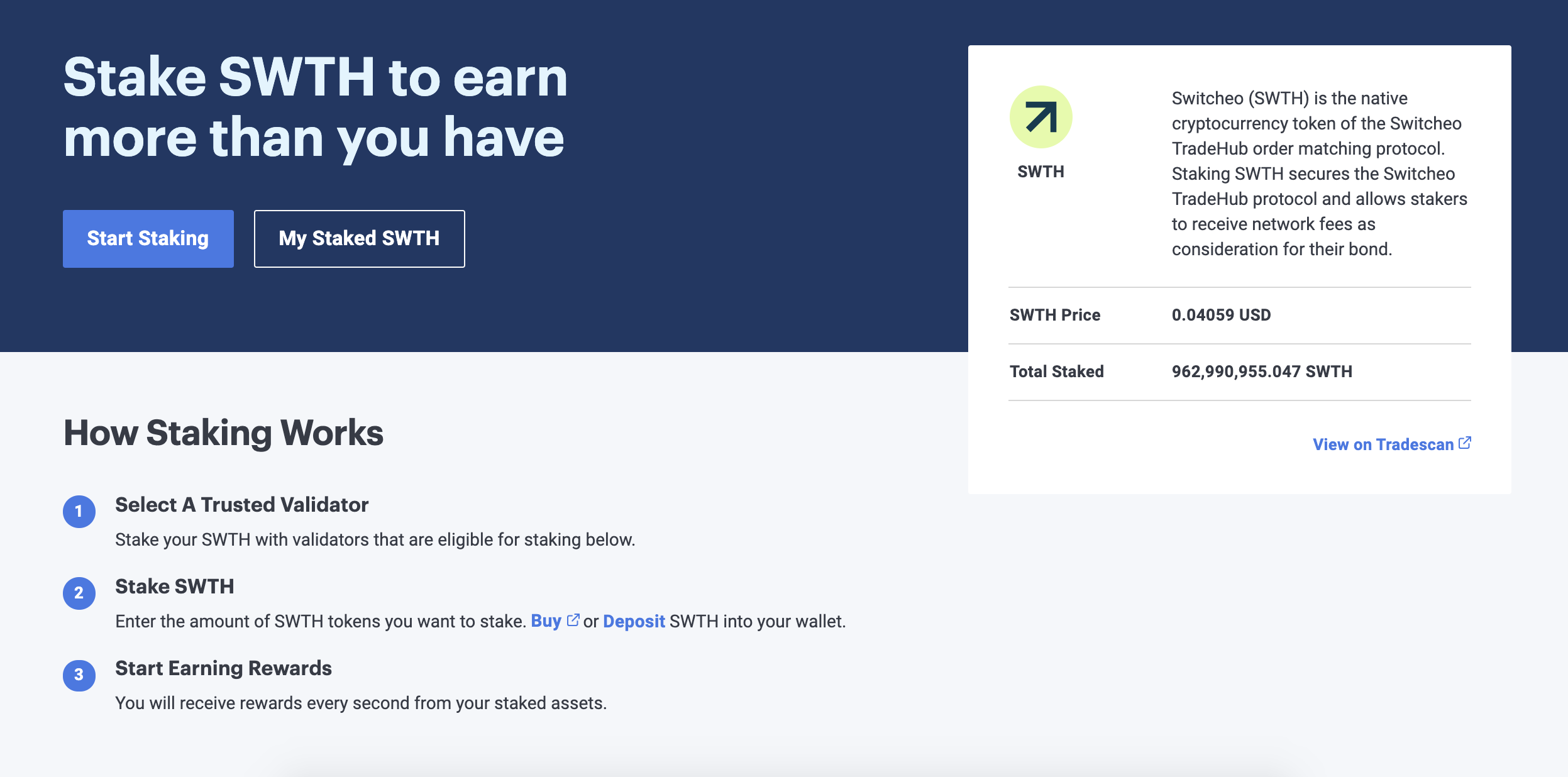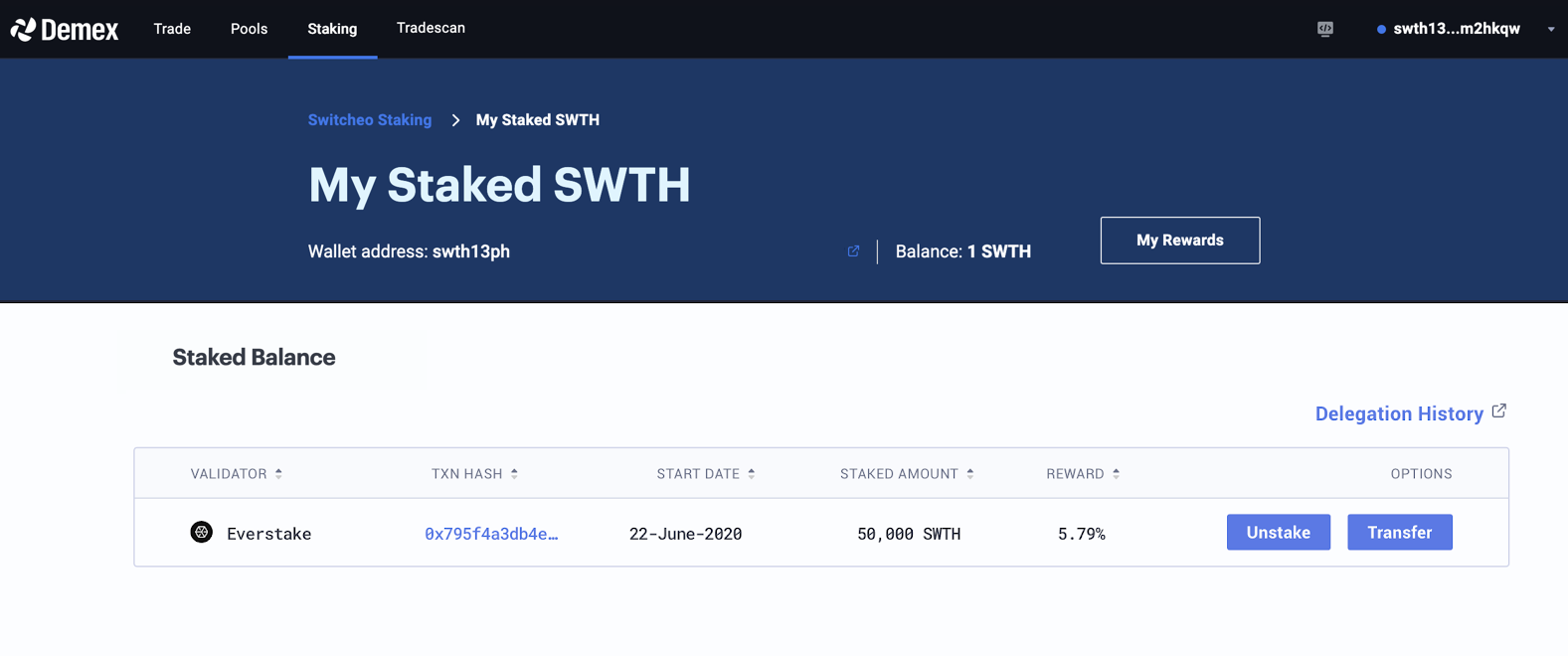 Check Your Rewards
Step 6: To check your total rewards, you simply need to click on the "My Rewards" tab on the mid-right section of the "My Staked SWTH" page.
Finally, on the "My Rewards" page, you will see your list of tokens and the amount of staking rewards you have earned.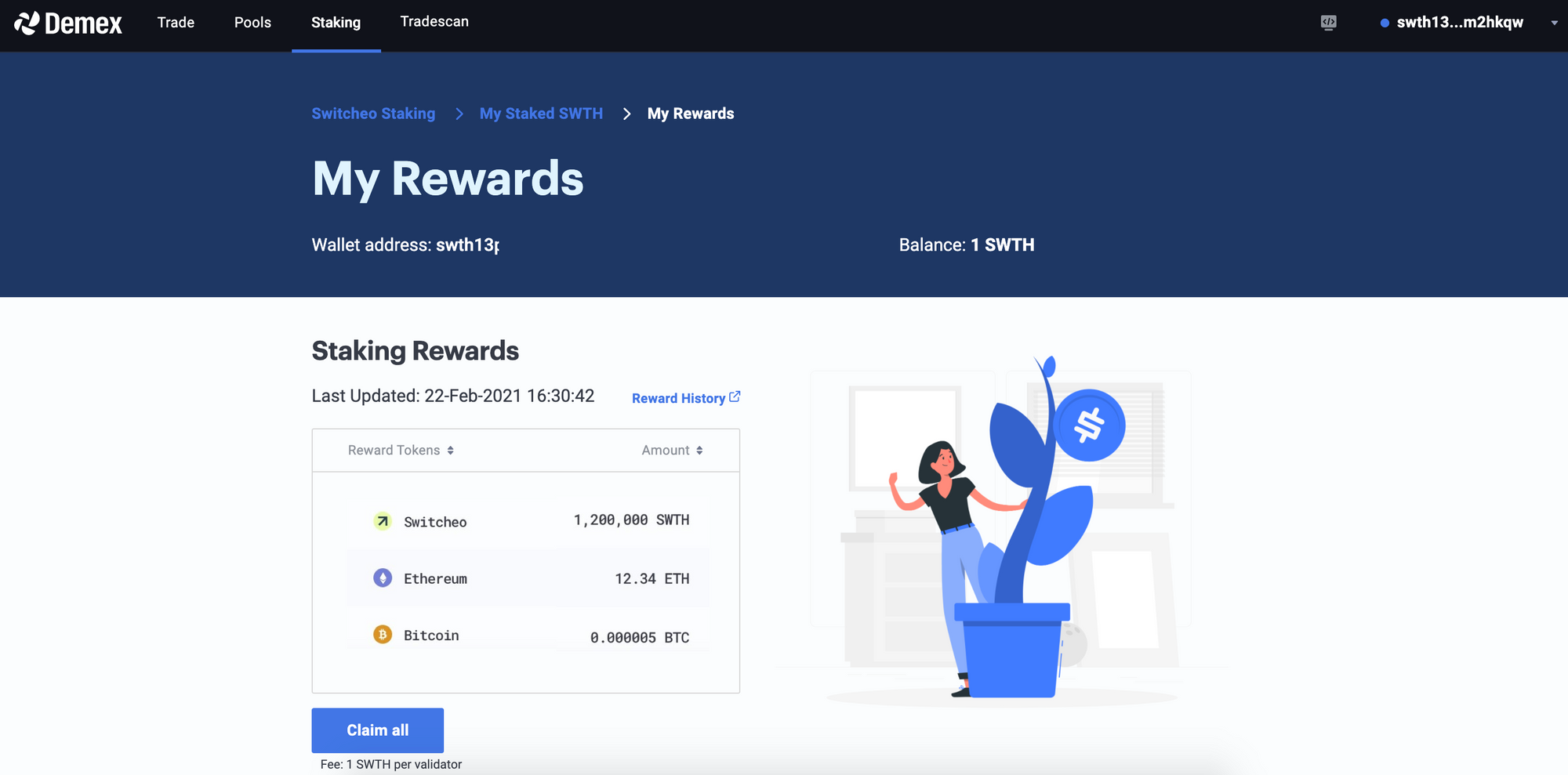 There you go, a few easy clicks to staking your SWTH tokens.
Join a Staking Pool Early!
Switcheo TradeHub will launch in a staking-only mode in its initial beta phase (phase-0). But did you know that staking your SWTH during the initial launch of Switcheo TradeHub will earn you way more than postponing it to later weeks?
For example, let's say you decide to stake 10,000 SWTH during the initial launch of staking in Week 0. By the end of Week 3, you would receive total earnings of 730 SWTH, giving a total return of 7.3% on your capital.
If you start 2 months later instead and begin staking from Week 8 for the same one month period, that would earn you 562 SWTH or a yield of  5.62%. Compared to the first example, this is 23% less.
On top of that, you would have missed out on the block rewards which would have went to other stakers for the previous 2 months. This opportunity cost totals to about 1,368 SWTH, or 13.68% of your initial SWTH holdings!
Switcheo TradeHub is a brand new protocol, and it is naturally prone to higher risks in the initial stages of its development. Therefore, stakers receive higher rewards the earlier they stake SWTH.
With that, there's only one thing left to do; hang on tight to your tokens and be prepared to act fast, as we will be launching staking on Switcheo TradeHub any day now!
---
Notice
Not an offer
None of the information contained here constitutes an offer (or solicitation of an offer) to buy or sell any security, currency, product, cryptocurrency, digital token or financial instrument, to make any investment, or to participate in any particular trading strategy.
Forward looking statements
The information contained here may contain forward looking statements. These statements are not guarantees of future performance and undue reliance should not be placed on them. Such forward-looking statements necessarily involve known and unknown risks and uncertainties, which may cause actual performance and financial results in future periods to differ materially from any projections of future performance or result expressed or implied by such forward-looking statements.
Not financial advice
The information and publications are not intended to be and do not constitute financial advice, investment advice, trading advice or any other advice or recommendation of any sort offered or endorsed by Switcheo. Switcheo does not take into account your personal investment objectives, specific investment goals, specific needs or financial situation and makes no representation and assumes no liability to the accuracy or completeness of the information provided here. Switcheo also does not warrant that such information and publications are accurate, up to date or applicable to the circumstances of any particular case.
Risk warning
Cryptocurrencies and digital tokens are subject to high market volatility and risk, and are out of the Switcheo's control and sphere of influence. Please apply your own due diligence before buying or selling cryptocurrencies and digital tokens. Switcheo shall not be liable for any losses, damages, costs, or expenses (including, but not limited to, loss of profits, loss of use, direct, indirect, incidental or consequential damages) from participating in trading activities or other crypto market-related activities.
For more information on Switcheo: