In the wake of the FTX debacle, the month of November has certainly been nothing short of illuminating. As we step into our final chapter of 2022, let's look back on all that has transpired in the Carbon and Zilliqa ecosystems - and our unwavering mission to do right by our users, as fundamentals matter now more than ever.
1. Carbon
1.1. Governance proposals


V2.14.0 Software Upgrade - Amplified Liquidity Pools, Money Market and Native Stablecoin
The high-anticipated V2.14.0 Software Upgrade covering Amplified Liquidity Pools, Money Market and Native Stablecoin has been successfully updated on the Carbon chain. View the proposal here.
To learn more about
V2.15.0 Software Upgrade
This release primarily fixed issues that affected the CDP module on the Carbon Mainnet. View the Commonwealth Proposal here.
Utilizing $SWTH in SDF as Community Inventives on Carbon Money Market
Carbon's incentive module allows for additional token incentives to be awarded, giving users additional yield when participating in Carbon's money market. Using $SWTH from the SDF allows our ecosystem to bootstrap a vibrant lending/borrowing market, giving users top-tier liquidity on a non-custodial platform. Click here to view the proposal.
For more information on the SDF, click here. To learn more about the Carbon Money Market, click here.
Refreshing LP Rewards and Reallocating Pool Weights
Carbon has an in-built reward module in its code, enabling liquidity providers to benefit from providing liquidity to LPs, earning a percentage of block rewards in addition to taker fees from trades made for that market. Rewards are distributed proportionately to the amount of liquidity provided, and reviewed every 12 weeks. As the previous cycle ended Friday, 25 November, a proposal was submitted to refresh rewards. View the proposal here.
For more information on liquidity rewards, click here. Contribute liquidity to $SWTH pools on Demex and earn rewards here.
Community proposal to link pools to spot markets
A key and novel feature of the Carbon protocol is its AMM-backed orderbook, where AMM orders are generated for a market using its corresponding pool's liquidity. To facilitate trading, a liquidity pool must be linked to its market. In line with this, a proposal was created to link several pools to their corresponding spot markets.
1.2. Carbon Twitter Spaces
Biweekly Twitter Spaces by Carbon are still going strong. Listen in to our latest recording as we deep dived into $SWTH, the protocol's native and governance token, here.
This month, Carbon organized and went on a number of Twitter Spaces alongside other protocols in an effort to promote DeFi in the Cosmos ecosystem. Catch the replays here:
Follow our journey on socials here and here.
2. Demex
2.1. Nitron Testnet
The community's been buzzing with excitement and that's because Nitron by Demex is now live on Testnet!
Nitron is positioned to be the money market for the Cosmos ecosystem; Learn more about Nitron here.
PSA: Nitron will officially go live on Mainnet next Tuesday, 6 December! Don't miss out on any of our important updates - Follow Demex socials here and here.
2.1. Top Gainers and Top Traders Perpetuals Trading Competitions #2
Demex kicked off Season 2 of the perpetuals trading competitions this month, which took place from 1 November, 8AM UTC to 30 November, 8AM UTC.
Traders could take part in either the (1) Top Gainers Competition, trading BTC or ETH perpetuals to compete for the highest profit % ranking, or the (2) Top Traders Competition, to trade BTC or ETH perpetuals as they competed for the highest trading volume ranking.
Winners stand to win from a prize pool of US$4000. For more information about competition guidelines, rules and prizes, check below:
Heartiest of congratulations to all winners! We will provide an update shortly on the status of the prize winnings. To view the list of winners, head on here.
In our next perpetual trading competition (in December), traders can take part in the Top Gainers competition and tweet with their custom hashtag to register.
Stand to win from a $3,000 prize pool! For more information, click here.
2.2. Nitron by Demex <> Stride Zone
Stride is a liquid staking protocol for the Cosmos community. Liquid staking enables users to use their staked assets to compound yield; Users can continue to earn staking yield by staking their assets while using the stToken generated to earn additional yield by lending, LPing, and more.  
Demex is powered by Carbon, a Layer 2 derivatives trading protocol built using Cosmos-SDK. With Carbon's integration with Stride, when the Nitron money market launches on Demex, the decentralized exchange will be supporting $stATOM. This means that users will be able to lock $stATOM as collateral for borrowing other yield-generating assets, or to mint the CarbonUSD stablecoin, $USC.
For more information on Stride, click here.
2.3. Giveaway to celebrate upcoming launch of Nitron
In anticipation of Nitron launch on Demex, a giveaway of 5000 $SWTH to 1 lucky winner was held. Congratulations, @PlanD_69!
Nitron is a decentralized non-custodial platform where users can participate as depositors (lenders), borrowers or liquidators permissionlessly. Learn more about money markets here.
2.4. Demex Twitter Spaces
Demex kickstarted biweekly twitter spaces as an initiative to interact more with the community directly. This provides an avenue for community members to be timely updated on the team's latest developments and progress, as well as to engage in market trends and general discussions about the wider crypto space as a whole.
Join us in conversation:
3. Zolar
3.1. Metazoa x Dope Crew NFT Giveaway
To celebrate the launch of Mission II: The Right to Bear Arms, we arranged a NFT giveaway with Dope Crew. Two winners will stand to win a Metazoa and Dope Crew NFT respectively.
The giveaway ended on 12 November. Winners will be announced shortly - Stay tuned!
3.2. Trade in-game items on ARKY
Any minted items from Zolar will be automatically added onto the "Zolar Items" NFT Collection on ARKY, ZilSwap's NFT Marketplace. Trade in-game items on ARKY here.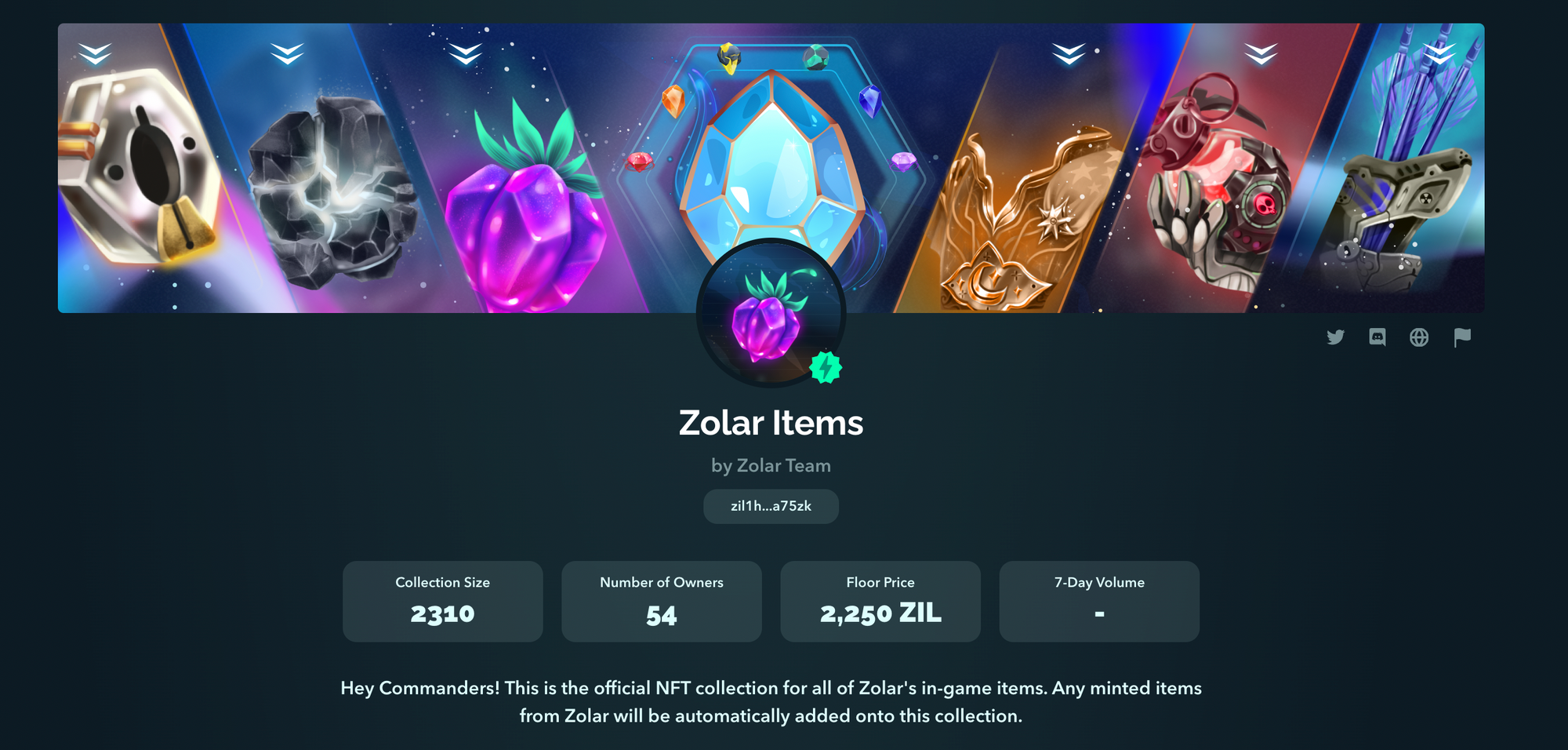 3.3. Youtube Video #2 on $HUNY
The second instalment of our Youtube series sees us exploring $HUNY, the governance token (and liquid gold) leading the Zolarverse.
Catch the explanatory video below.
Get your hands on some $HUNY here.
3.4. Naming Contest
In following previous months' traditions, we're back with another naming contest this month.  
Entries for name suggestions ended on 18 November, and the top 3 preferred names entered a pool for final selections. The name with the most votes was entitled to 50 Geodes. Each Geode can either be sold for $HUNY at the ZOMG Store, or used to reveal a Galaxy Gem to boost Metazoa stats.
The poll ended on 21 November, with 'Plate of Solaris' taking the win at 47.1%. Congratulations, @shane_turk!
3.5. Rescue Ship
The long-awaited Rescue Ship has arrived on Moon Battle! Commanders, you can bring your Metazoa safely back to base now.
Follow the steps below to do so:
Head to https://zolar.io/game
Under "In Battle", click on the "Return to Base" button
Click "Return" and your Metazoa will be returned to base safely
3.6. Developer Updates
A list of minor, but necessary, updates in the Zolarverse along the way -
Consume Elderberry Juice to boost Metazoa XP
Enhance Galaxy Gems and increase the stats of each gem by tenfold
4. Switcheo Research
In Proof-of-Stake (PoS) protocols, when tokens are being staked to secure the network, they are locked and illiquid. Enter liquid staking, which enables users to stake and secure the network, earning high staking rewards whilst using their staked assets to participate in DeFi simultaneously.
In this month's research, the team at Switcheo Research explores Liquid Staking Derivatives and how they can transform DeFi in the Cosmos ecosystem. Read more here.
5. What's next?
The crypto space has been tested with much turbulence lately, and if there's one thing we are certain about, it's this - As we dive deeper into the realm of DeFi, we remain steadfast in our quest to bring about a truly permissionless and trustless financial ecosystem for all.
Now, with V2.14.0 officially live on Carbon, it won't be long now before users can interact with the new features via the protocol's reference trading UI on Demex. To find out what we're up to next, check out the protocol roadmap.
The Zolarverse is picking up speed as well, with new ZOrdnances being revealed every week. And as Metazoa everywhere gear up for Mission 3: Battle of the Commanders, the future of Zolar awaits...
Till our next update, stay SAFU!