Introduction
STEPN is a Web 3.0 SoFi (Social Finance) and GameFi lifestyle app created by Find Satoshi Lab on Solana, where players can walk, jog or run outdoors using their NFT Sneakers to earn reward tokens and NFTs.
STEPN earns from in-app activities, such as NFT trading, Sneaker minting and renting. A portion of their profit goes to buy Carbon Removal Credit on the blockchain to combat climate change.
The STEPN team also aims to inspire millions to a healthier lifestyle through outdoor gamification by using their move-to-earn mechanic as one of the main motivating factors. They have made it extremely easy for new players to join their community with zero barriers to entry.
What do I mean by that? For most play-to-earn games, players are required to first purchase their NFTs for each respective game before they are even allowed to start playing or earning. STEPN does not require players to own NFT assets.
Players are entitled to move-to-earn from the get-go by renting Sneakers for FREE from other players via a credit rental system. The earnings are split later on where 30% goes to the renter and 70% goes to the owner.
Sneakers
Where to purchase STEPN Sneakers?
This is by far the most common question that I have encountered in the community, so here's how you can purchase a pair of STEPN Sneakers.
Sneakers are available on their in-app marketplace and can only be purchased with $SOL. I would recommend purchasing them on their in-app marketplace as it tends to give you the best prices for Sneakers. You can download their mobile application from the App Store or Google Play Store respectively.


You can also find their collection and purchase NFT Sneakers on Magic Eden. These are the ONLY two authentic marketplaces for STEPN Sneakers currently, do not attempt to purchase them anywhere else.
Transferring Sneakers from one account to another account will result in a cooldown period where players cannot use their Sneaker for a short period.
Sneaker Attributes
There are 4 different attributes for STEPN Sneakers.
1. Efficiency
Efficiency plays a part in $GST earnings. Higher Efficiency results in better $GST earnings per Energy spent.
2. Luck
Luck determines the frequency and quality of a Mystery Box drop. Players are also able to receive Mystery Box drops while their Sneakers are rented out.
3. Comfort
Comfort enhances $GMT earnings at level 30. Future developments will be released soon.
4. Resilience
Resilience affects the decay rate of durability. Higher Resilience results in a slower Durability decay. The repair cost increases with the level of the Sneaker.
Durability is the "stamina" of the Sneaker. As players move, Durability decreases and Sneakers receive an Efficiency penalty at 2 major points.
Sneaker Efficiency to drop to 90% at 50% Durability
Sneaker Efficiency to drop to 10% at 20% Durability
Players will be able to burn $GST or $GMT to reset their Attribute points. The more frequent the reset, the more expensive it will be, with the cost capping at a certain level.
Sneaker Types
There are 4 Sneaker types, each designed to suit a different exercise intensity and/or fitness level.

The base return is not static, and several factors may cause the $GST rewards to fluctuate.
Sneaker Efficiency (low Durability affects Efficiency)
GPS signal (players will earn less if GPS signal is poor)
Data strength and stability (choppy signals could also reduce earnings)
Randomization
Sneaker Quality
There are 5 Sneaker qualities with a range of min and max Attribute points chosen randomly at mint. Upon level up, additional Attribute points will be given to players according to their Sneaker quality.

Players can level up their Sneakers by burning $GST. Each level up takes a fixed time to complete, increasing in duration with the amount of $GST according to the level. $GMT will also be required to level a Sneaker to level 29 and 30.
At Level 30, players have the option of burning $GST, $GMT or NFTs to customize their Sneakers. More detail about customization will be released soon.
Sneaker Minting
Shoe-Minting Event (SME) occurs when players "breed" their Sneakers that they own (cannot be rented). This process requires 2 Sneakers producing a Shoebox in the process.
Players can perform a maximum of 7 mints per Sneaker. The higher the mint count a Sneaker has, the more it will cost to upgrade.
It will cost 200 $GST to mint a pair of Sneakers for the first time. Minting has a 48-hour cool down for both "parent" Sneakers but can still be used for movement.
Utility Elements
Gems
Players are able to unlock Gem Sockets once their Sneakers reach a certain level, and can enhance their Sneaker Attributes by inserting the corresponding Gems into the unlocked Sockets (eg. only Efficiency Gems can be placed into Efficiency Sockets).
There are 4 types of Gems, with each Gem representing an Attribute:
Yellow: Efficiency
Blue: Luck
Red: Comfort
Purple: Resilience
Players can upgrade their Gems by burning $GST and combining 3 Gems of the same level and type to a higher level. $GMT will also be required to upgrade a Gem from Level 4 onwards.
Do note that Gems Upgrades from level 1 -5 have a chance to fail, and players will lose their Gems when that happens.
Sockets
A Sneaker has 4 different Sockets, identified by colors that match a Gem type. Players insert Gems into the Socket to boost the Sneaker's Attributes.
Each Socket is unlocked when the Sneaker reaches level 5, 10, 15, and 20 respectively. Higher Socket quality will give extra boost to the inserted Gem's Attribute.
Badges
Badges are earned by completing tasks, harder tasks awarded better Badges. Some possible in-game perks that they offer include,
Extra Energy (Solo Mode)
Leaderboard point bonus (Marathon Mode)
Higher chance of renting out a Sneaker
Lower Sneaker minting cost
Governance
Mystery Boxes
Mystery Box is a loot box that is randomly dropped while you are moving in Solo Mode. It contains level 1 - 3 Gems. Each player has 4 Mystery Box slots, and these boxes have the same 5 quality types as Sneakers - Common, Uncommon, Rare, Epic, Legendary.
Upon receiving a Mystery Box, there will be a countdown duration proportionate to its quality. Players will be able to open their Mystery Box for free once the countdown has ended or pay a fixed amount of $GST to open it immediately.
Game Modes
There are 3 game modes in STEPN, Solo Mode, Marathon Mode and Background Mode. Each mode comes with a different reward system.
Solo Mode
In Solo Mode, players are required to equip their Sneakers in order to earn $GST when moving around. Sneakers have Energy, which are also needed to earn $GST.
1 Energy allows for 5 minutes of income generating movement. $GST or $GMT will be paid out for every minute of movement depending on your Total Energy, Movement Speed, Sneaker (Type, Attributes, Quality & Level), Gem (Type, Level & inserted Socket Quality), and NFT Badges. Once their Energy is depleted, players stop earning tokens.
Marathon Mode (Under Development)
In Marathon Mode, players need to register under the Marathon Tab at least 24 hours prior to commencement, and can only take part in one Marathon at a time. There will both be Weekly Marathons and Monthly Marathons.
A fee is imposed upon registration, which will be refunded upon completion of the Marathon. This is to ensure commitment from players. Those who are unable to complete the Marathon within the time frame will have their fees pooled together and included into the Leaderboard rewards.
Background Mode (Under Development)
In Background Mode, players will be able continue earning $GST while the STEPN app is not being actively used, provided the player owns a Sneaker in their in-app wallet.
Steps are capped at 3,000 daily and earnings are neither affected by Attributes nor add towards the Daily Token Cap. Players will also not incur Durability or Energy costs while earning through Background Mode.
Game Mechanics

Earning System
Solo Mode has both a Daily Energy Cap and Daily Token Cap. These limits restrict the daily amount of Energy and tokens.
Daily Energy & Token Cap
Players will start the game with a 2 Energy and 5 $GST daily capacity. They can increase their Energy and Token cap by levelling up their Sneakers.
Energy System
Energy replenishes 25% every 6 hours until it reaches the Energy Cap. Players can increase their maximum Energy by holding more Sneakers. 1 Energy = 5 minutes of move and earn.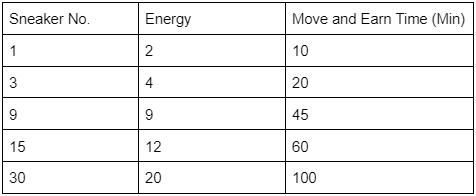 Additional cumulative Energy is given to players for higher quality Sneakers:
Uncommon Sneaker: +1 Energy
Rare Sneaker: +2 Energy
Epic Sneaker: +3 Energy
Legendary Sneaker: +4 Energy
Tax System
STEPN will charge a different tax rate for various transactions. Royalties are paid to the NFT creators.
Marketplace Trading (2%)
Marketplace Royalty (4%)
Sneaker Minting (6%)
Sneaker Rental (8%)
Anti-Cheating
For those of you that are planning to cheat, STEPN has an anti-cheating system in place to stop any cheating in the game.
The app uses GPS tracking, motion sensors, health data and machine learning to detect cheating through data simulation. Using devices that have been jailbroken, rooted, or with an altered OS will result in STEPN not working properly.
Tokenomics
Green Metaverse Token ($GMT)
$GMT is the governance token of STEPN with a limited supply of 6 billion tokens.

Private Sales: 978M $GMT (16.3%)
Binance Launchpad Sale: 420M $GMT (7%)
Team: 852M GMT (14.2%)
Advisors: 150M $GMT (2.5%)
Ecosystem / Treasury: 1.8B $GMT (30%)
Move and Earn: 1.8B $GMT (30%)


$GMT will be released gradually over the next 8 years, with an initial release of 600 million tokens in March 2022.
30% of $GMT will be distributed to players through Move-to-Earn and governance participation, with the total release of $GMT halving every three years to ensure the longevity of STEPN.
$GMT is obtainable by players with Sneakers above level 30. Players can also buy $GMT to burn in the STEPN app for access to features provided by STEPN. This includes minting or customizing high quality NFT Sneakers, upgrading high quality Gems and participating in governance voting.
Green Satoshi Token ($GST)
$GST is the utility token of STEPN. It serves as the replacement to experience points and in-app currency. Players equipped with NFT Sneakers can walk, jog or run outdoors to earn $GST in Solo or Background Mode. Do note that renter will only be able to earn $GST and not $GMT tokens.
The token has an unlimited supply but can be used for various upgrades and unlocks through their burning mechanism. Some of which includes Sneaker minting, repairs, leveling up, Gem upgrades and Socket unlocks.
Team
STEPN is created by Find Satoshi Lab, an Australian-based fintech studio. The team won the 2021 Solana Ignition Hackathon Gaming Track.
Their co-founders Jerry and Yawn have over a decade of experience in game development, operations, marketing and scaling start-ups. Their board of advisors include Scott Dunlap - VP at Adidas and William Robinson - Head of Accelerator at Alliance.
STEPN is also backed by many credible investors such as Alameda Research, Sequoia Capital, and Folius Ventures.
Conclusion
STEPN is an interesting concept in the Move-to-Earn GameFi space. They encourage people to exercise in a fun and incentivizing way. With future game mode developments and renting coming onboard, this could potentially attract many new players outside of DeFi as it allows them to get started without investing too much into the game before they even get to try it out.
Non-crypto natives can also earn before they learn how to use a decentralized wallet, enabling their first steps in the world of Web 3.0 to be effortless and meaningful.