We are officially entering the final quarter of the year! October was a month filled with many developments, new releases, and a new Bitcoin ATH! If you've missed any of the updates, read on for a summary of what went on in Switcheo Labs!

Switcheo TradeHub has been renamed to Carbon
Perhaps one of the most exciting updates of the month — Switcheo Labs's flagship protocol, Switcheo TradeHub, was renamed to Carbon to better convey the protocol's primary goal of becoming the core of all decentralized financial ecosystems, and being highly connective in a multi-chain world.
Carbon is a brand new blockchain encompassing all of the beloved and revolutionary characteristics of Switcheo TradeHub, and much more! Along with the renaming, a new website for the Carbon protocol was launched to serve as the first touchpoint for validators, developers and users. Read more about the relaunch here.
This new update caught the attention of countless media sites and platforms including Coin Pasar, Asia Token Fund, Techcryption and MoneyFM  89.3.
Switcheo was also formally re-introduced as Switcheo Labs together with a sharpened identity and new website. While true decentralization has always been the end-game, the team took a step back to re-evaluate the anchoring reason behind all that we do at Switcheo Labs. This resulted in a refreshed MVP (mission, vision & purpose) that will continue steering Switcheo Labs towards enabling a world that is truly free, providing people with the option to transact without the need for trust or reliance. Find out more about Switcheo Labs' new MVP here.
2. New Zilliqa markets and liquidity pools added to Demex
4 🆕 cross-chain ZRC-2 markets and LPs are now LIVE on #Demex!

✅ Trade $ZIL, $ZWAP, $gZIL & $XSGD against $BUSD
✅ Add liquidity, earn rewards
✅ Commit LP tokens for a greater reward boost

Cross-chain trading has never looked so good 🔀https://t.co/toYTIndutW#Zilliqa #BSC pic.twitter.com/ZiIWdoed08

— Demex (@demexchange) October 14, 2021
Following Carbon's integration with Zilliqa, Demex saw 4 new cross-chain liquidity pools and markets added permissionlessly via governance, bringing even greater cross-chain opportunities for Demex and Zilliqa users! The 4 markets are:
All 4 pools are currently earning boosted liquidity rewards on the platform! To start earning, check out the Zilliqa pools on Demex.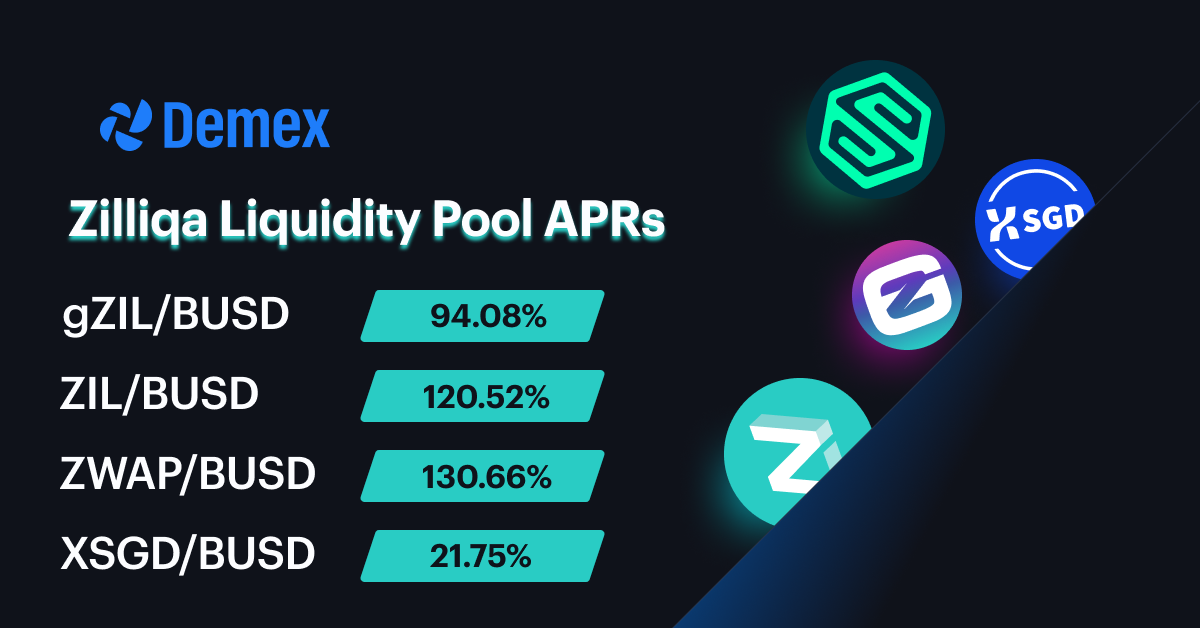 The cross-chain pairing of Zilliqa's ZRC-2 assets with BUSD (BEP-20), provides a low-cost gateway for users to onboard the Zilliqa ecosystem thanks to lower BSC fees as compared to Ethereum.
Support of Zilliqa on Demex presents boundless opportunities for even greater cross-chain liquidity pools and markets for ZRC-2 assets including interoperability with Neo, Ethereum and any other supported chain in the future!

3. NFT Marketplace — ARK — launch on ZilSwap
The highly-anticipated NFT marketplace, ARK, launched on ZilSwap this month after an overwhelming response to The Bear Market NFT collection released a month prior in celebration of the marketplace.
ARK was developed with a goal of uniting creators, artists and collectors on one seamless and intuitive platform, accessible to anyone within the ecosystem. With the NFT space on Zilliqa heating up, ARK is on an ambitious pursuit towards rivalling OpenSea with more features, functions and capabilities. Supported Zilliqa NFT collections on ARK currently include The Bear Market, ZilDucks, Unicutes, DragonZIL, Zilmorphs, DeMons and Zilliqa Royale.
As part of the marketplace launch, ARK is having an October promotion with exclusive perks for The Bear Market holders! Find out more about the platform and check out the perks here.
4. Demex Carbonation — Live on Carbon Testnet
In preparation for Carbon's Mainnet launch, users were given a little taste of the Carbon chain with Demex live on Testnet! Upon Mainnet launch, major updates outlined in Carbon's roadmap can be expected for an even better trading experience on the world's first derivatives DEX.
1/ Harder, better, faster, stronger 💪⚡

Experience an all-new #Demex powered by @0xCarbon — now live on Testnet!

Not long before Carbon Mainnet goes live and massive updates land on Demex 🚀

✨ Check out all that's in store on Carbon's new roadmap!https://t.co/vddWqbH34E pic.twitter.com/Ur4YjgrNnI

— Demex (@demexchange) October 27, 2021
5. Final SWH Swap Tranche Distributed
The 6th and final monthly distribution of SWTH to unswapped SWH holders who responded to Governance Proposal #39 has been completed.
Back in March of this year, a proposal was initiated by Switcheo Labs community managers and admins to resolve late claims SWH to SWTH swap claims. The original token swap process concluded in 2019 after running for more than a year.
After 6 months, the final distribution of SWTH has been concluded. As per the proposal, a total of 4,356,414 SWTH tokens were distributed to 106 claimants.