Hello, February! As we bid farewell to the first month of the year, it's time to reflect on what we've accomplished so far and look ahead to what the new month will bring for the Carbon and Zilliqa ecosystems.
Carbon

In January, we saw the total value locked (TVL) on Carbon amassing over $4m, a steady and continuous climb marking constant growth of the protocol.

The total number of transactions on-chain has grown by over 24% across the month as well, with over 110,000 total relays being safely transmitted on Hydrogen.

Step by step, Carbon is going places.
1.1. Integration with Arbitrum
The Arbitrum integration was completed on Carbon, establishing the protocol's place as one of the first chains in the Cosmos ecosystem to incorporate support for Arbitrum — bridging two of the most popular ecosystems and enabling the exchange of assets between them for the very first time in the history of DeFi!
Carbon's seamless integration with Arbitrum allows individuals within the Cosmos ecosystem to effortlessly and permissionlessly import assets from Arbitrum to Carbon through the use of the 'Import Token' function on Demex, the protocol's reference trading UI.
That's not all! This integration enables individuals from the Arbitrum ecosystem to engage in direct trading of their Arbitrum assets for native assets within the Cosmos ecosystem on Carbon, so long as a corresponding market is in place.
To learn more about the integration, and what this means for the Arbitrum and Cosmos ecosystems, check out this article.
1.2. Proposals
Carbon is a fully decentralized, community-driven development where SWTH stakers are empowered to drive growth of the protocol without the constraints of a central governing authority.
A look at the list of proposals that were put up for discussion this month:
Community Pool Spend
Parameter Change
Software Upgrade
Listing of Assets on Nitron
1.3. Track Carbon portfolio on Pulsar Finance
Visit pulsar.finance to track your $SWTH portfolio in real-time!
1.4. Track the Carbon Ecosystem on Interchain Info
Carbon, Demex, Nitron and $USC have been grouped under the umbrella 'Carbon Ecosystem' on the Interchain Info website. As the list of dApps built on Carbon grows, this makes it easy for community members to access everything in one place.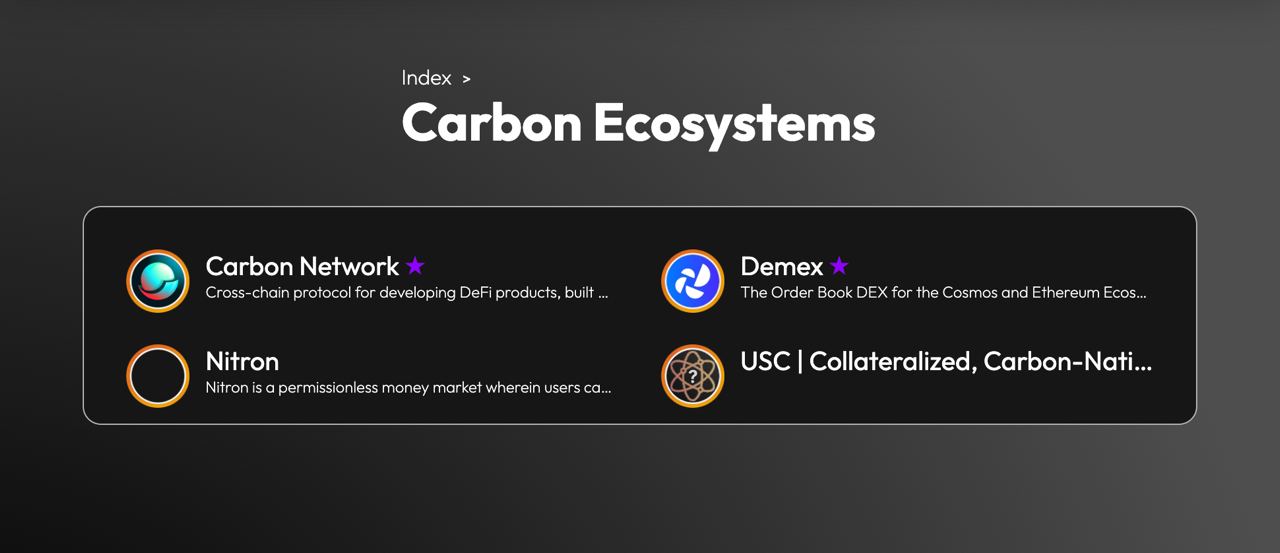 Track and learn more about the Carbon ecosystem on Interchain Info here.
1.5. Deprecation of Terra Classic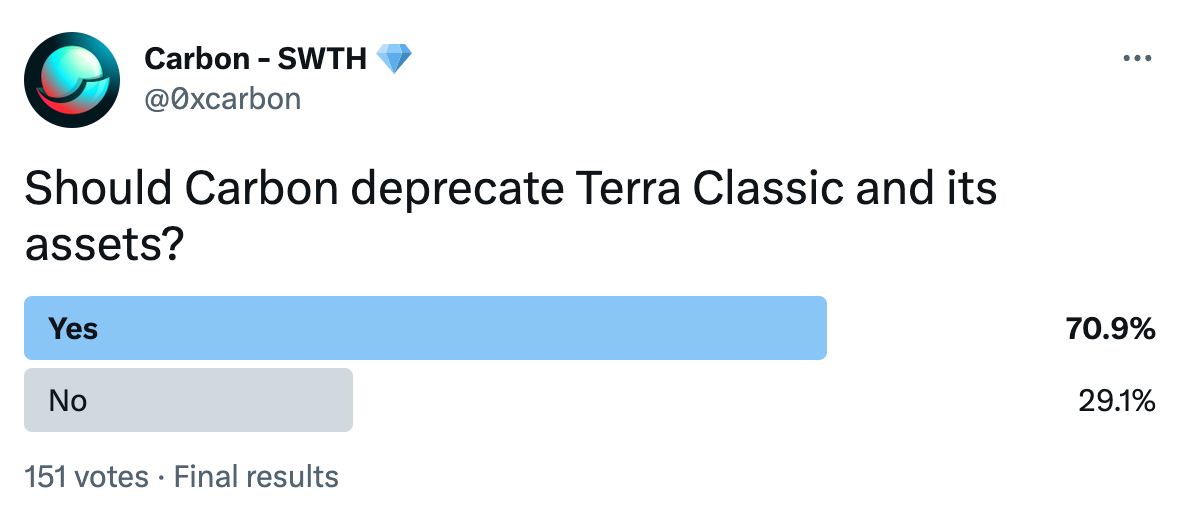 In accordance with the poll results conducted on Twitter, Terra Classic has been deprecated and will no longer be supported on the Carbon blockchain.
2. CarbonHub
2.1. Staking Migration to CarbonHub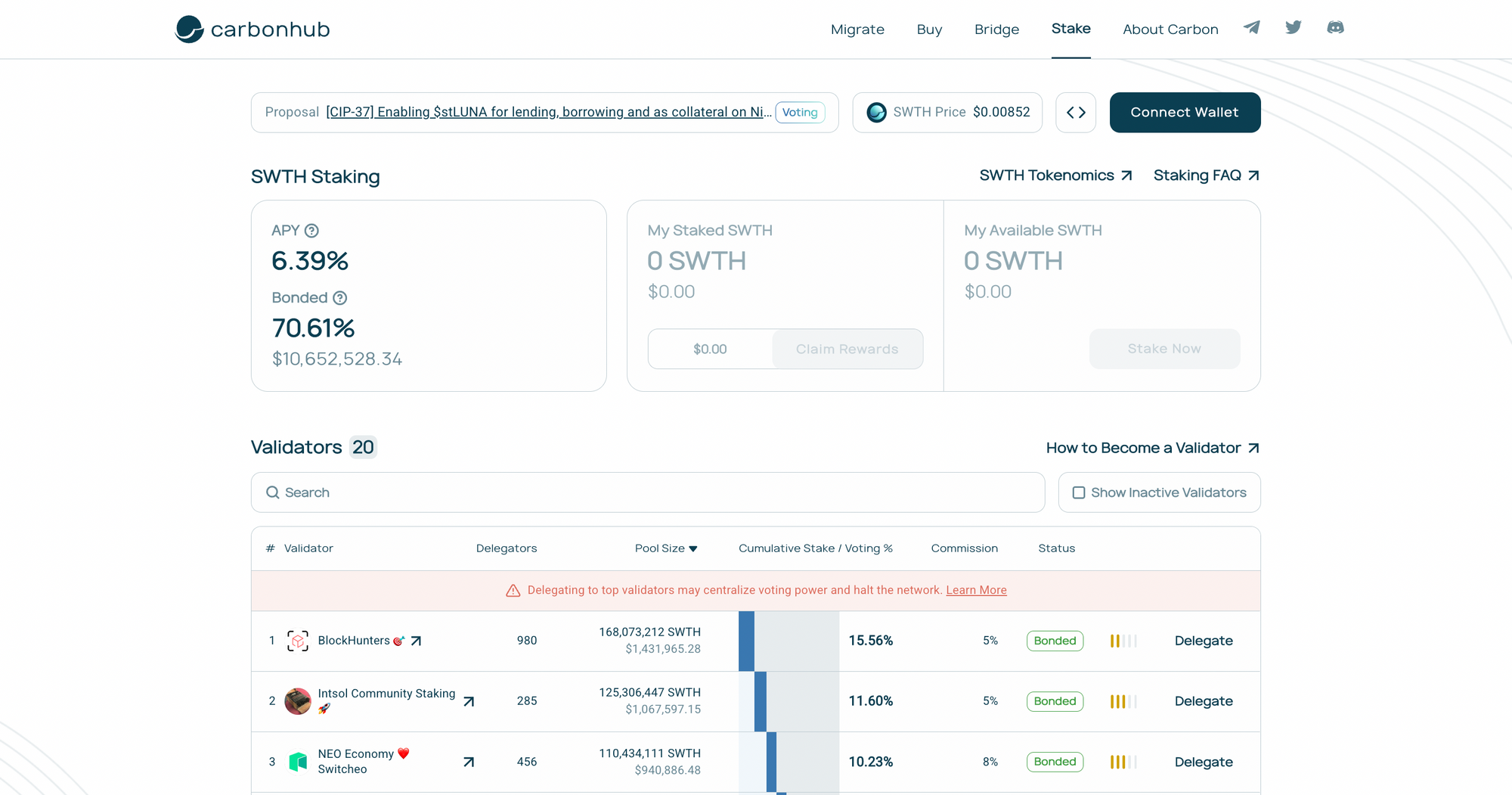 Staking on Carbon has officially been migrated from Demex to CarbonHub! This transition further cements CarbonHub's position as the one-stop destination for all $SWTH-related actions, from buying, migrating, bridging and now - staking.
2.2. Community RPC Nodes Enabled on Staking Page
To offer better node latency, staking on CarbonHub offers multiple nodes for users to select from. More nodes translate to greater decentralization and higher chances of finding good latency for different users (i.e. faster transaction execution).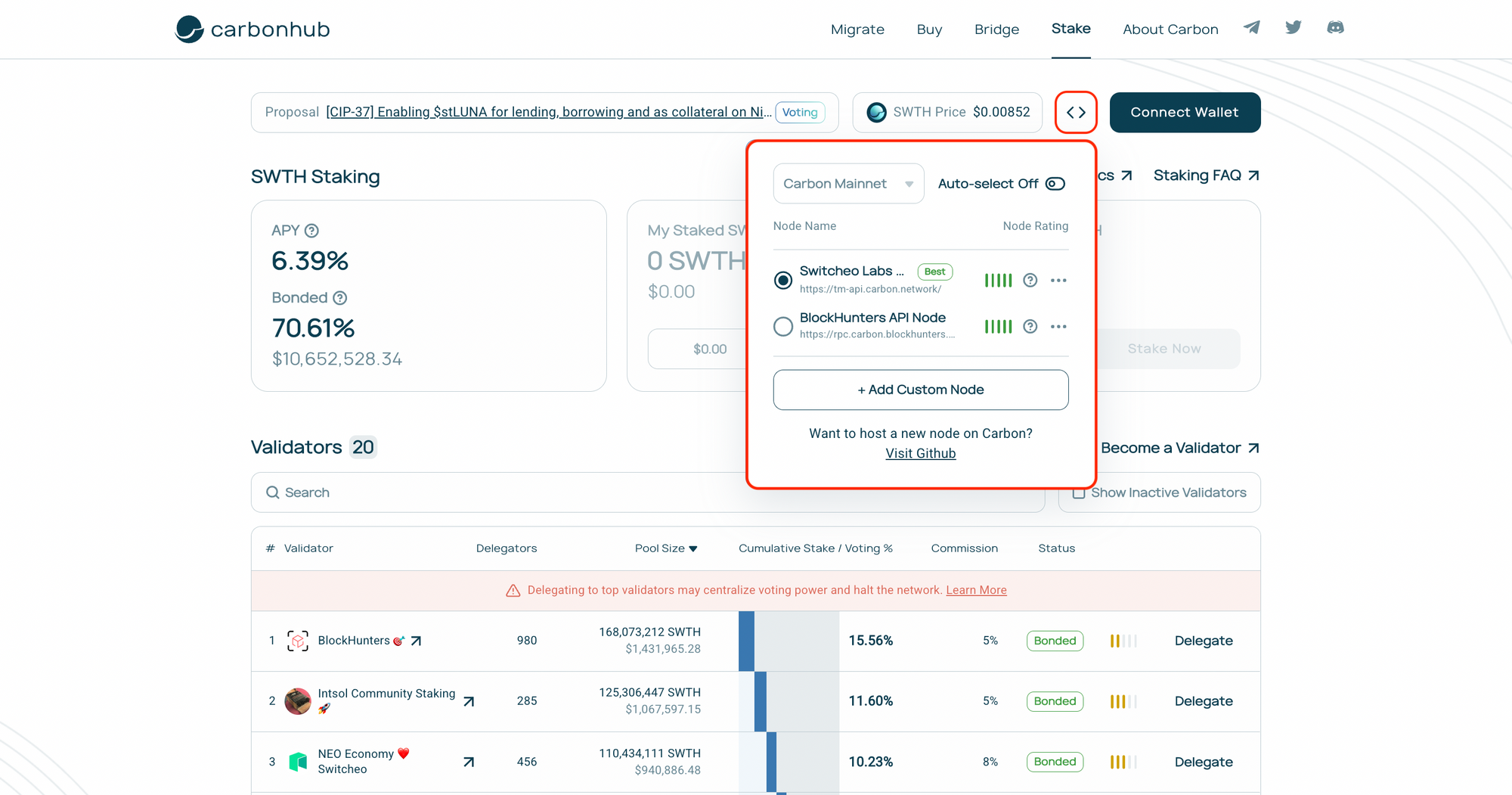 Even if one node fails, users can easily switch to other nodes and continue using CarbonHub without any disruption.
Interested in setting up a Public Community Node? Read more here.
2.3. Support for Arbitrum on CarbonHub Bridge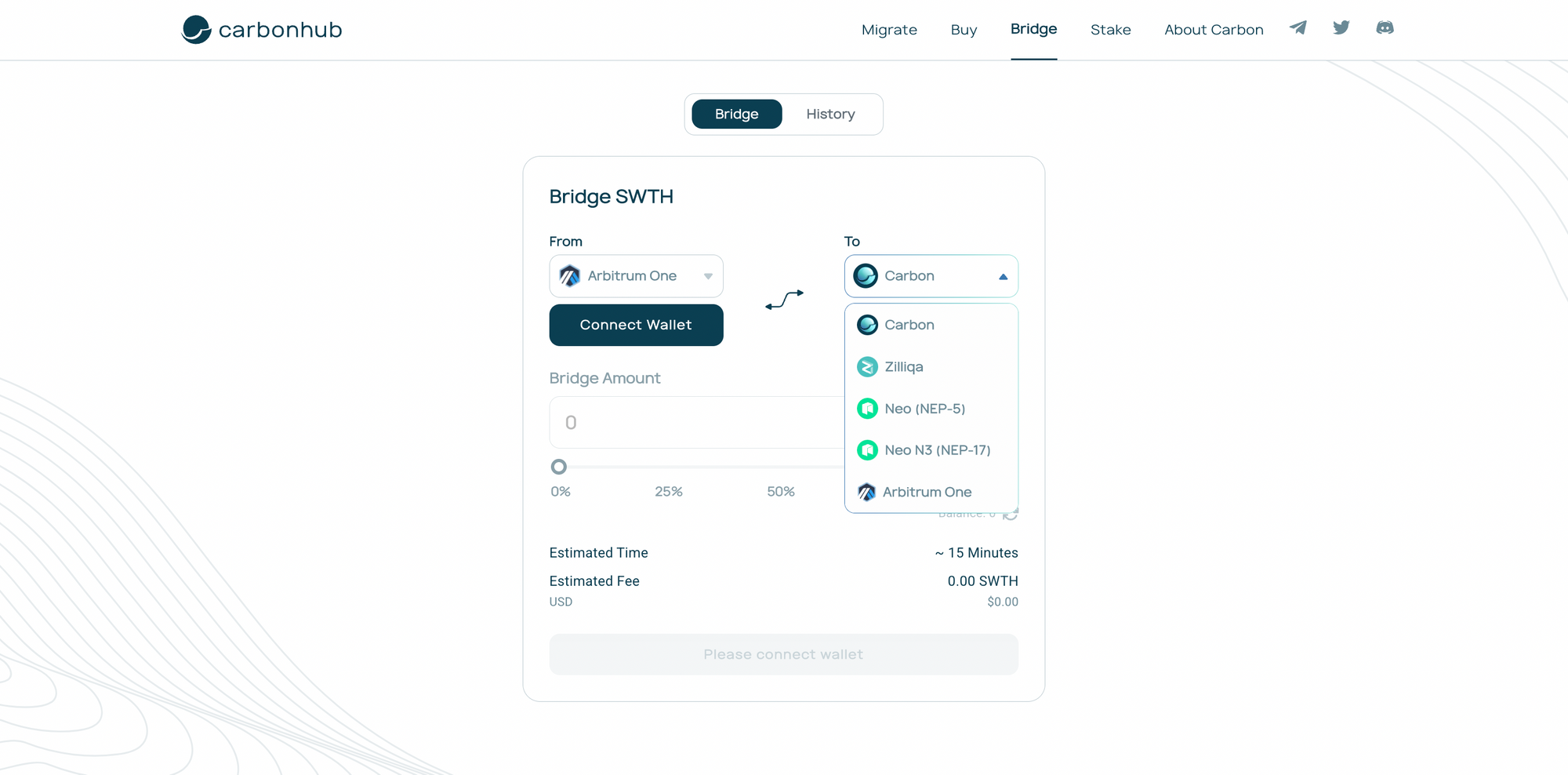 While users can already bridge $SWTH tokens to and fro Carbon and EVM chains previously (i.e. Ethereum and BNB Smart Chain), the list of supported chains on CarbonHub bridge has since been expanded to include Zilliqa, Neo, Neo N3 and Arbitrum. This increases the number of supported chains to seven, bringing a more cohesive DeFi experience for the community.

Experience the magic yourself - bridge $SWTH easily to and fro the above chains with just one click on CarbonHub bridge!
3. Demex

3.1. OSMO Perpetuals Airdrop
Taking place for a month between 5 January 9AM UTC to 5 February 9AM UTC, Demex held a joint Perpetuals Competition!
Winners or losers alike, there's something for everyone:
The first 100 participants stand to earn 20 $USDC by completing 3 steps: (1) Deposit 100 $USDC in wallet, complete 3 trades on OSMO-PERP market and post a tweet on Twitter with a custom hashtag.
The first 5 winners stand to win 50 $USDC by trading on the $ETH, $BTC or $OSMO perpetuals.
The first 30 registers stand to win 30 $USDC rebate if they incurred a negative PnL at the end of the competition.
Note: Prizes for the December Top Gainers Perps trading competition has been sent! Prizes for the January perpetuals competition will be sent shortly.
3.2. New Markets and Pools
February saw the addition of 2 new perpetual markets:
The KUJI/SWTH market and pool went live on Demex this month as well, and has been allocated with a 4x reward weight based on [CIP-22], earning users up to 66.8% APR!*
Last but not least, we have the axlUSDC/USDC pool - which has been amplified by 200x, empowering users to swap between the two stablecoins with less slippage.
Start adding liquidity to earn rewards or trade directly on Demex!
*APR at time of writing
3.3.  Integration of Leap Wallet on Demex
On top of Keplr, Metamask, Ledger and Encrypted Key, users can now connect to Demex using Leap wallet too!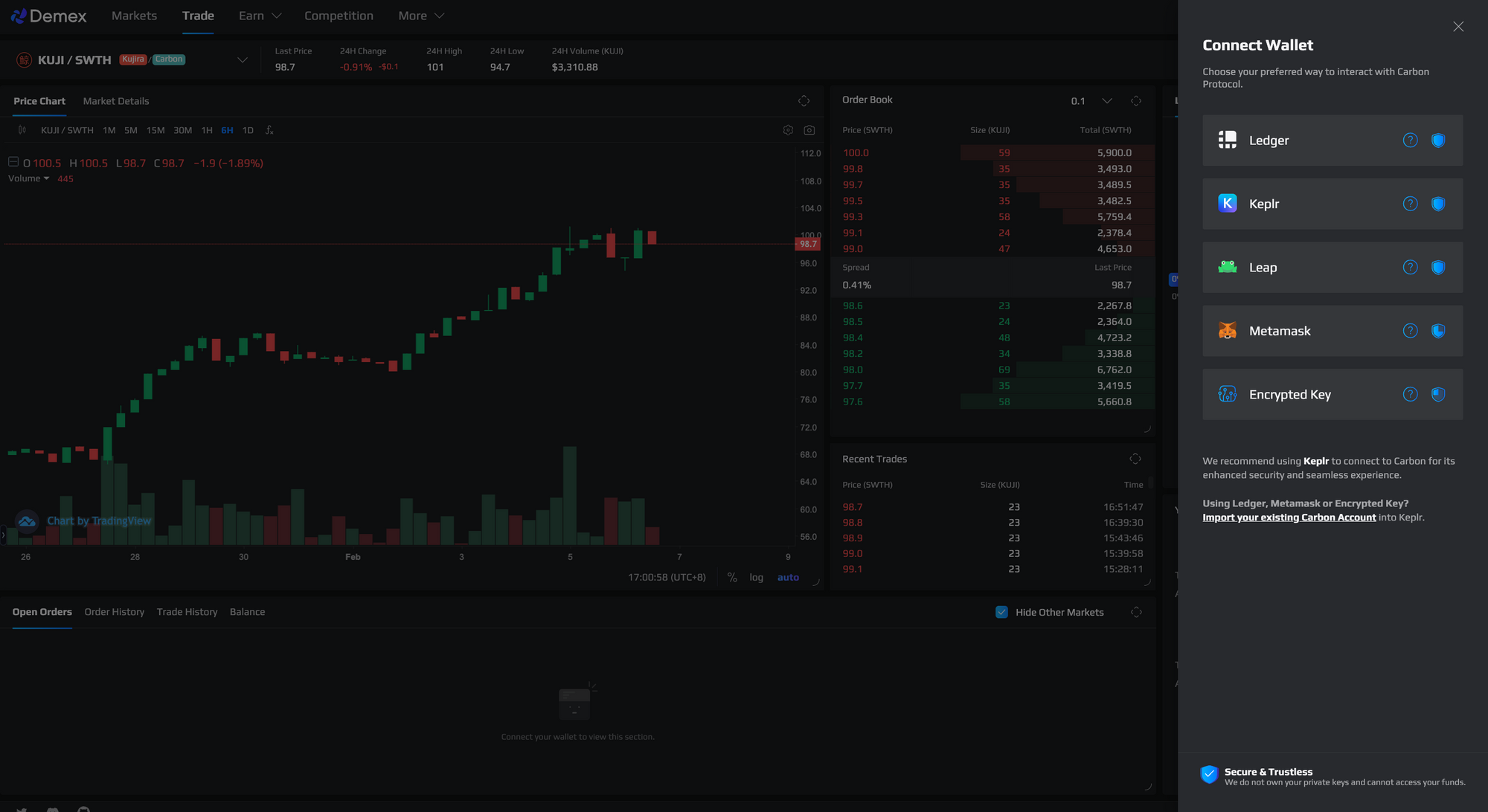 Demex is dedicated to offering the best trading experience - We are expanding the list of accessible wallets for users, making the onboarding process easier and reaching a wider audience.
2.4. Demex Ambassadors Club
Powered by Carbon's Referral Module, Demex is set to launch its very own Referral System - the first referral system implemented by a DEX!
Join the Demex Ambassadors Club - Apply now.
2.5. New landing page
First impressions matter - and that's why the Demex landing page has undergone a major revamp!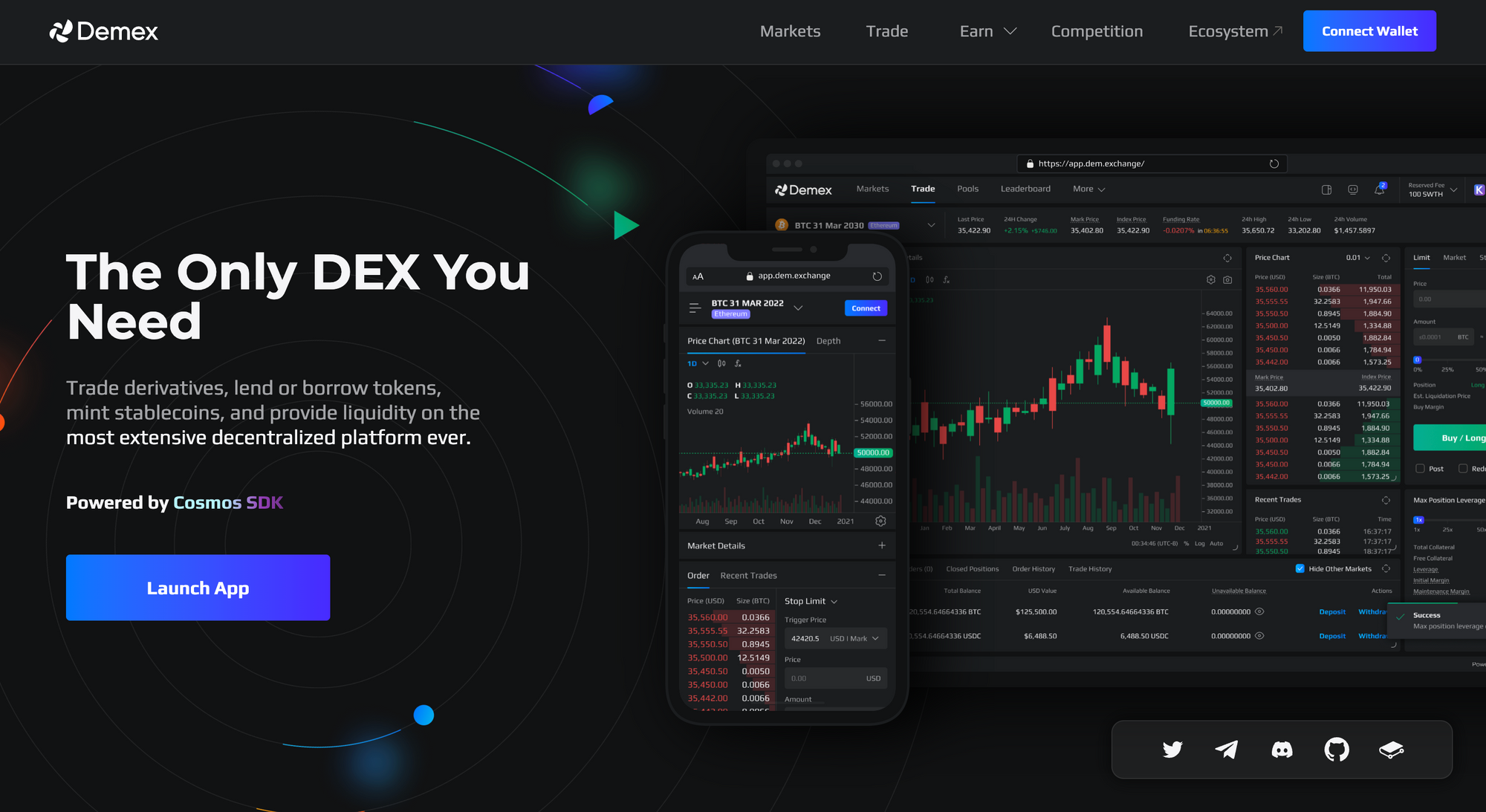 Experience a whole new DEX here!
2.6. Growing List of Flexible Network Fees
To begin using Demex, users must pay network fees for certain actions. Previously, this could be done with only $SWTH, the native token of Carbon. This required new users to acquire $SWTH before they can begin trading on the platform, which could be a deterrent for newcomers. To overcome this, flexible network fees was born, making it easy for users from other chains to onboard easily, paying fees in their preferred assets.
This month, Demex added 6 new tokens to the list of assets available as network fees, bringing the total number of tokens available as network fees to a whooping 18!
Fancy a seamless trading experience? Give Demex a try.
2.7. DeFiLlama tracking Demex's volume
Demex's volume is now available for tracking on DeFiLlama.
Stalk Demex's volume on DeFiLlama here!
2.8. Community
Demex has always placed the community at its core and this year, we look forward to creating more intentional conversations with all of you.
2.8.1. Twitter spaces
With Demex's fast-paced feature development, Twitter Spaces offers a real-time audio chatroom for community members to catch up on the latest developments and ecosystem updates.
That's not all - Demex is restarting its weekly Twitter Spaces! Tune in for the latest alpha here.
2.8.2. Demex Quiz Quest
Put your Demex knowledge to the test! To boost community involvement, the first 100 participants who accurately answered all questions had the opportunity to win a portion of the 70,000 $SWTH reward pool.
The quiz ended on 6 February, 9AM UTC. Results will be released soon!
3. Nitron
Nitron has been going strong with new assets being supported each week. This is nowhere more obvious than from its TVL, which has averaged $2M daily.
This month, a total of 3 new assets were added to Nitron:
Lend and borrow pools for OSMO - At launch, the lend pool was incentivized with $4000 worth of SWTH and the borrow pool was incentivized with $1000 worth of SWTH.
Lend and borrow pools for KUJI - At launch, the borrow pool was incentivized with $625 worth of SWTH.
Lend pool for SWTH
4. Zolar
Things are quietly brewing in the Zolarverse!
4.1. Game Mechanic Updates
In accordance to the poll results conducted on Discord <link>,
The 21-day staking period is currently back in action on Zolar
Resources will no longer be available for sale on the ZOMG Store
For more information, check out the guides on Zolar here.
4.2. Equipments Unlocked
Looking to boost your resource gathering power? With Galaxy Gems and Z-Ordnances, there's no better choice of equipment to enter combat with.
Set foot into Zolar and equip yourselves here!
5. Switcheo Research
This month, the team of analysts at Switcheo Research have been deep-diving into meaningful trends and projects making waves within the crypto and DeFi realm! Read more about their analyses and findings for the articles below:
6. What's Next?
One week into February and already we're loaded with new updates!
Carbon
Demex
Zero-Fee $GLP Vault
Demex has launched a zero-fee $GLP vault on Arbitrum! This allows users to deposit $GLP and mint $cGLP i.e. Carbon-wrapped $GLP, which auto-compounds all native $ETH yield earned from holding $GLP, at no fees.
For more information, check out this article.
$GMX, $cGLP and $wstETH live on Nitron
For the first time in the Cosmos ecosystem, $GMX, $cGLP and $wstETH have been enabled on a money market - and that's none other than Nitron! With these assets live on Nitron, users can lend/borrow or use them as collateral to mint $USC.
$GMX is the native token of GMX, the top perpetual DEX on Arbitrum, while $GLP is the LP token for providing liquidity to traders on GMX. Read more about GMX here.
At launch, the $cGLP lend pool was incentivized with $500 worth of $SWTH.
$wstETH is the wrapped version of liquid staked $ETH that is available for minting on Lido Finance here.
The newly launched $stLUNA is live on Nitron!
$stLUNA is the liquid staked derivative of $LUNA, powered by Stride Zone. Recently launched by Stride (yesterday!), minting $stLUNA on Stride unlocks liquidity for users to participate in other DeFi activities whilst earning ~14% staking rewards.
Lend, borrow or use $stLUNA as collateral on Nitron here! The lend pool is incentivized with 30,000 $STRD rewards.
$CANTO live on Demex
Adding to the lists of assets and as flexible network fees on Demex is $CANTO! Users can now permissionlessly create markets and liquidity pools for $CANTO on Demex.
***
This month, we anticipate the launch of Grouped Tokens, a new DeFi primitive that allow different tokens with the same value to be grouped together into one fungible token. Learn more about Grouped Tokens here!
Talk about an action-packed roadmap - We hope you're as excited as we are for all the possibilities February has in store. Till then, see you on the next one!