Opportunity
On the 28th of October 2021, Facebook rebranded into "Meta", reflecting its focus on building the metaverse. Being the largest social media company in the world with over 2.5 billion monthly users, Facebook spearheaded the Metaverse narrative that is likely to take flight in the years ahead. However, this is not the only company venturing into the Metaverse. Prominent companies such as Epic games, Niantic, Nvidia, Microsoft and Apple are also in the race. Many more web 2 companies are expected to follow to remain competitive. In a greyscale report, it is estimated that revenue from the virtual gaming world could grow from $180 billion in 2020 to $400 billion in 2025.

Product analysis
Cornucopias 'The Island' is a Cardano based play-to-earn, build-to-earn and learn-to-earn-MMORPG game where players can own land and other NFT (non fungible tokens) based assets that are tradeable in a peer-to-peer manner, all hosted in a fun and expanding metaverse. It is split into a number of themed zones such as the 'WildWest' zone, 'Farm Life' zone and 'Age of The Samurai' zone. People of all ages can play a series of mini games, getting lost in the play-to-earn ecosystem where they can earn digital assets as they explore and build in our safe and secure world.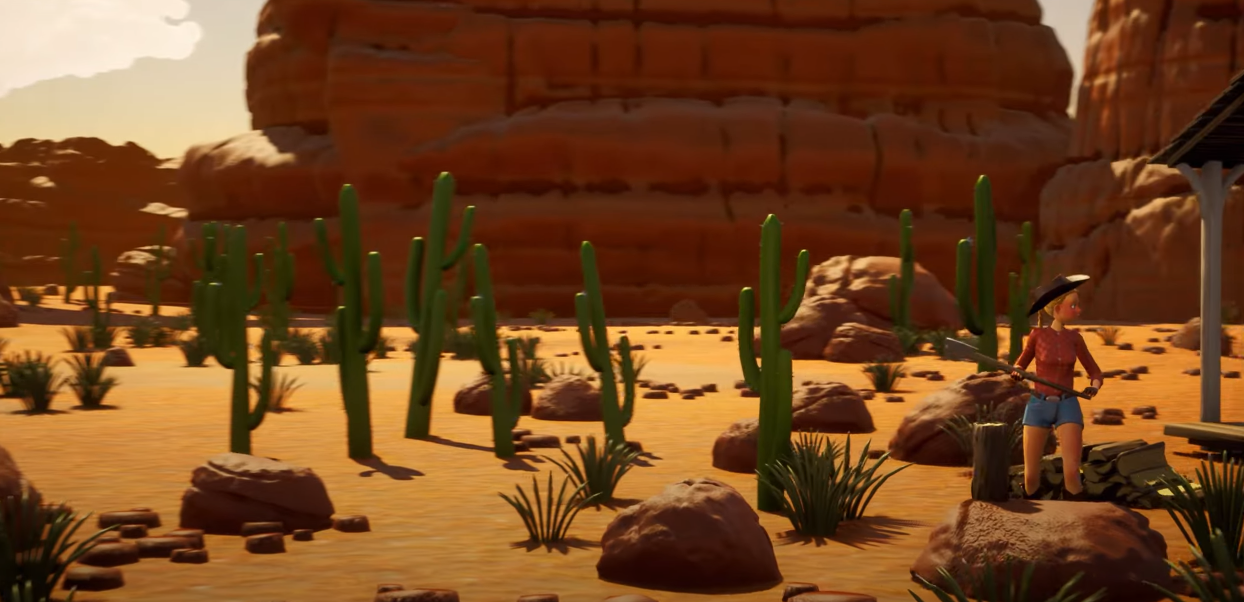 Play, build and learn to earn
A core ethos of the project is to have something that appeals to every demographic. Whether you are a casual player, competitive player, money incentivised player, NFT collector, artists or builder. Players can earn cryptocurrency rewards in the form of tokens when they play the game. They can also create unique designs for in game assets such as coffee tables and beds. These design blueprints can be minted into NFTs and sold to others for a profit. Players who purchase blueprints can then purchase materials to craft the underlying item. Lastly, learning will be incorporated into the metaverse through partnerships with education companies.
Land and mini games
The land on the Cornucopias map is divided into districts that can contain a mixture of cities, towns and/or villages. Within each district is a 'Starting Zone' where the player can begin the game if they have a character that originates from that district. By default each player is given two free 'Starting Characters' from the city zone, 'Urban Adventures' (see below how to obtain additional characters).

Each district will have a unique 'themed' look and feel such as the 'WildWest' zone which is based on an old American western town, 'Farm Life' a zone based on a rural farm or ranch, 'Age of The Samurai' zone based on 12th century early- modern Japanese heritage, and many more. Some of the land zones, cities and towns can be subdivided further into neighborhoods with the lowest level being a land plot.

Once a plot of land is owned by a player and depending on where the plot of land is located, it can be built upon to produce one of the following types of land plots: residential, commercial, industrial, agricultural and recreational.

Players will be able to play mini games on these lands where energy is used to gain XP, gold and other rewards such as items. When players reach XP milestones, they are rewarded with badges and items.
In-game Characters
Characters in Cornucopia are unique and can be customized using NFTs in the form of outfits, accessories and mounts. These NFTs each have a certain rarity and can be bought or sold in the marketplace. In the future, there are plans to partner with other Cardano projects to bridge NFTs.

Characters have limited energy that is used up when performing tasks/ playing minigames. Once their energy runs out, they would have to either wait for it to recharge or use certain energy restoring items such as food items.
In-game Staking

Players will be able to stake tokens in the game for area access. These restricted areas offer unique rewards such as NFT outfits. The more tokne a player stakes, the more content he is able to access.
Product analysis conclusion

The core product of Cornucopias seems really ambitious, targeting the mass market, even incorporating aspects of learning. In the whitepaper, not much details are given about the specific implementation of these features. It is also a highly complex project with many moving parts, thus possibly taking years to develop.
Fundamental analysis

The $COPI token:
Market cap:$12,279,549
FDV: $247,634,089
Volume: $431,680
Circulating supply: 190,855,890.00 COPI
Total supply:3,840,000,000
COPI trades on Pancakeswap currently
The COPI token exists in the BEP-20 standard. The founders decided not to issue a Cardano native token due to the lack of decentralized exchanges in the ecosystem. One key thing to note is the low market cap of the project at $12m.


Public sale: $0.00365, 25% Unlocked on listing then 25% every 30 days
Private sale: $0.00365, 10% on TGE, then 9% per month for 10 month

Metaverse macro analysis
The Metaverse narrative is relatively new. However,  many key components have started to take shape and are revolutionizing everything from e-commerce to media & entertainment, and even real estate. In a greyscale report, it concluded that the potential of this internet evolution has started to attract Web 2.0 companies like Facebook, which is shifting to a Metaverse company and is changing its name to "Meta". At this inflection point, other leading Web 2.0 tech companies will likely need to start exploring the Metaverse to stay competitive, and the spotlight has prompted a new wave of investment in this emerging crypto category.
A greater and greater portion of our attention is going towards digital activities, especially for younger generations. Today, ~1/3rd of our lives (~8 hours/day) is already spent watching TV, playing games, or on social media. As we spend more of our time in these digital world experiences, we also spend more of our money within these digital realms to build our social status within these online communities.

Source: https://grayscale.com/wp-content/uploads/2021/11/Grayscale_Metaverse_Report_Nov2021.pdf

Competitors
Pavia
Pavia is a metaverse project on the Cardano blockchain. It is in the very early stages of development but has a well laid out project roadmap.  At the time of writing, the project claims to have 4000 LAND owners.
It has conducted two LAND sales. The first LAND sale took place a month after Pavia Corp. incorporation. The website went live in October 2021 and so did the LAND sale. A total of 29,000 NFT LAND parcels were sold. The second LAND sale took place on November 24th, 2021, a total of 31,000 NFT LAND parcels were put on sale at a fair price of 45 ADA per LAND.  However, its product doesn't seem as polished as cornucopias.

HashGuardians
Hashguardians is an NFT play-to-earn game where players can collect 10,000 unique NFT characters to be played in its metaverse. Its pre alpha version is out, having the first mover's advantage. However, its 2D gameplay seems lesss polished compared to Cornucopias.

Traffic
Traffic data from google trends and similarwebs are unavailable. This shows that the project is relatively new and has little exposure.
Socials
Cornucopia's social media followings are not great, however this is not surprising considering its low market cap.

Team

The common characteristic behind the founding team is that all of them were experienced entrepreneurs with decades of experience in their field.

Partnerships
Cornucopias is partnered with a few small cap Cardano projects. It would increase holder confidence to see future partnership with more prominent Cardano projects.
Roadmap and milestones

Land sales are expected to happen in Q1 2022 while full game is expected to be released in Q4 2022. This is really ambitious considering the sheer amount of development required to produce a metaverse project.

Conclusion
Metaverse is a strong narrative that is forecasted to last. Thus, it can be good to diversify one's portfolio by buying into Cardano metaverse projects. Its small market cap of $12 million is a double edged sword compared to bigger projects such as Sandbox ($5.6 billion market cap). On one hand, there are tremendous growth potential. On the other hand, it shows that the project has yet to be accepted widely by the community, increasing the inherent risks to holding its tokens.