We have upgraded the NEP-5 smart contract for the Switcheo Token (SWTH). The upgraded token is now available through Switcheo TradeHub! SWTH token holders can swap to the new contract by depositing their tokens on Switcheo TradeHub and then immediately withdrawing the token in it's upgraded form. Unbonded SWTH on Switcheo TradeHub may also now be withdrawn to the Neo blockchain under this new token contract.
Note that if you have already transferred your tokens to Switcheo TradeHub and do not intend to withdraw them to the Neo blockchain, nothing needs to be done. Trading through Switcheo TradeHub has not begun, but will commence soon.
The upgraded contract will be listed on Switcheo Exchange and be available for trading against NEO, GAS, ETH, and DAI on 23 October 2020 after a system maintenance at 1pm SGT, which will take approximately 1.5 hours. Do note that the older version of SWTH will simultaneously be delisted from the exchange.
We will be contacting other centralized exchanges to support trading of the new SWTH NEP-5 token, and where possible, assist them in conducting the swap on behalf of users. The old SWTH token will be available for swapping through Switcheo TradeHub in a trustless manner in perpetuity, assuming that there are no future governance actions that change that within the protocol.
Why Is There a Need for This Upgrade?
With the launch of Switcheo TradeHub, we introduced a new SWTH monetary policy that changes our tokenomics. We moved away from the existing deflationary token model to an inflationary model. This change means that SWTH will no longer be burnt by "exchange operators", decreasing the token supply. Conversely, adopting an inflationary model will lead to a growth in the supply of SWTH to approximately 2.16 billion tokens over the next 5 years.
An upgraded Switcheo token smart contract is thus needed to properly represent the actual supply of tokens following the change in tokenomics. This cannot be accomplished by the current SWTH smart contract, which is immutable and fixes the total supply and maximum number of tokens at 1 billion.
Furthermore, the Switcheo token contract was deployed more than two years ago, and since then, the NEP-5 specification has been refined with additional implementation details. Our new token contract implements these fully so that users can expect better compatibility on the Neo blockchain with DeFi protocols such as Flamingo Finance.
How to Get the New Token
Token holders can do a one-way deposit of their existing SWTH token into Switcheo TradeHub. This older version of SWTH deposited will be burnt by being permanently locked in the deposit contract.
SWTH can then be withdrawn from Switcheo TradeHub as the upgraded token. Tokens that were already on Switcheo TradeHub will also be withdrawn as the upgraded token when a withdrawal is made.
Here is how you can swap SWTH for the upgraded token on Switcheo TradeHub:
Step 1: Log into the SWTH staking portal at https://app.dem.exchange/stake. If you do not have an account on Demex, create one by following the tutorial here.
Check the website URL and ensure that you are using the correct platform!
Step 2: Click on "Deposit" to access your wallet on Switcheo TradeHub.
Under the SWTH asset, click on "Deposit"

Step 3: Deposit old SWTH tokens from your Neo wallet into your Switcheo TradeHub wallet by transferring tokens to the specified deposit address.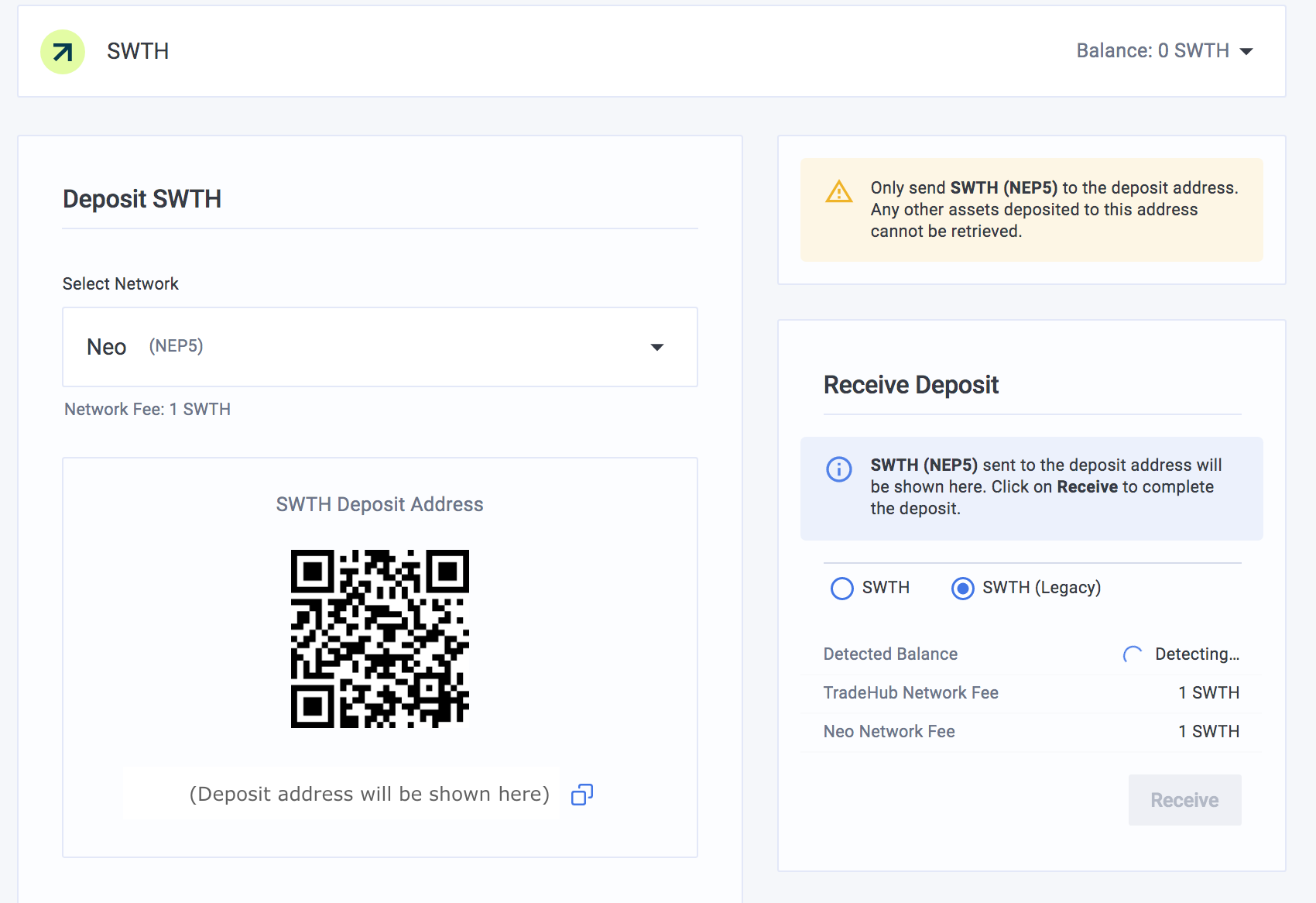 Click on "Receive" at the bottom right hand corner to complete the deposit.
Note that there is a 1 SWTH deposit transaction fee.
Step 4: Withdraw the upgraded token from Switcheo TradeHub by specifying your Neo wallet address.
Click on "Withdraw".

Input your Neo wallet address and amount of the upgraded token you wish to withdraw.
Note that there is also a 1 SWTH withdrawal transaction fee. Also note that when you withdraw funds to your NEO wallets (e.g. O3 or NeoLine), you may need to add the new token address to the wallet to make them visible.
It is impossible to withdraw tokens from Switcheo TradeHub under the existing token contract, so you do not have to worry about selecting a version.
Moving Forward
We are excited to be making headway towards Phase 1 of Switcheo TradeHub's rollout and further enhancing the Switcheo token's utility. More exciting developments are to come, so do stay tuned!
---
About Switcheo
Switcheo builds platforms that break new ground. We bring you finance without limits, for lives without limits. Whether you're a battle-weary trader or are just making your first purchase, there's nothing cryptic about crypto on Switcheo. Leading the pack with multiple world firsts, your time spent with us will be a worthwhile investment.
For more information on Switcheo: