Lots of exciting things went down in June. From partnerships to trading competitions, the Switcheo ecosystem is growing faster than ever!
1. Zilliqa integration with Switcheo TradeHub is drawing near!
Over the past quarter, the Switcheo and Zilswap teams have been working hand-in-hand to build a Zilliqa-Ethereum bridge via Switcheo TradeHub. The bridge is now available for testing on testnet on ZilSwap. Users can report any technical issues, test the safety and reliability of the bridge, as well as  feedback on the UI/UX. This will to ensure that the bridge is highly performant on mainnet launch. For more details, you can check out this article by Zilliqa.
By connecting the Zilliqa ecosystem with Switcheo Tradehub, we can also expect to see users trading Zilliqa-based assets on Demex very soon. We are now one step closer to a truly interoperable future!
2. Launch of the Demex Futures Trading Competition
The first Demex Futures trading competition officially launched on 29 June 2021, with a pool of $120K USD worth of prizes to be won. So far, the campaign has contributed to a significant increase in trading activity on Demex futures markets. Currently, the volume on Demex's BTC and ETH futures is sitting at a daily average of  over $140,000 USD!
Demex users can look forward to more similar campaigns coming in the near future. Liquidity is flowing into Demex faster than ever before!
3. Upcoming integration with Keplr wallet - The Interchain Wallet on Cosmos
We're positioning Demex as the go-to decentralised exchange for the trading of Cosmos-based assets. Naturally, this would entail partnering up with the leading Interchain Wallet on Cosmos - Keplr Wallet. Very soon, Keplr users will be able to seamlessly interact with Switcheo Tradehub and Demex to perform any action such as staking, trading, and interacting with liquidity pools. Using Keplr wallet for storing Switcheo tokens and trading on Demex adds an additional layer of security. As a browser extension wallet, Keplr is a more secure wallet option as compared to entering encryption keys on the browser because your keys never need to be exposed to the browser. This integration with Keplr thus falls  in line with our team's security-first approach.
Users who adopt Kelpr wallet will be able to access many other Cosmos-based chains in a frictionless way.. The Cosmos Stargate vision of interoperability is being built right in front of our eyes!
4. 100 new tokens added to Switcheo Tradehub and an improved token listing process
Switcheo core devs have added the 100 popular tokens on Switcheo Tradehub. Alongside our new and improved listing process, this means that users are now free to list and create new markets and trading pairs using any of these tokens on Demex.
The full list of tokens integrated with Tradehub can be found here.
After our next major upgrade Switcheo Tradehub will transition to a system where users can permissionlessly list and create any trading pair with any token of their choice without going through the governance process. With this, the Switcheo vision of a limitless global financial system grows ever closer to fruition.
Check out this Twitter thread for more details on our new token listing process:
@SwitcheoNetwork is improving the #TradeHub listing process. Thread 👇

— Ivan Poon (@ivan_switcheo) June 1, 2021
5. ERC-20 SWTH has officially arrived
SWTH is now accessible and tradeable as an ERC-20 token on Ethereum. The team has seeded $200K USD worth of SWTH-ETH on SushiSwap. Buy SWTH or add liquidity to Sushi here. More exciting things are coming for SWTH on Ethereum, be sure to stay tuned!
6. Switcheoverse Comic NFTs created by community member @1bigbagheera
A huge shoutout to our awesome community member Bagheera for creating and minting the first ever Switcheo Comic NFTs! The comic pages have been minted on the Binance Smart Chain and listed on the GhostMarket NFT marketplace. Check them out for yourself!
Here's the first edition: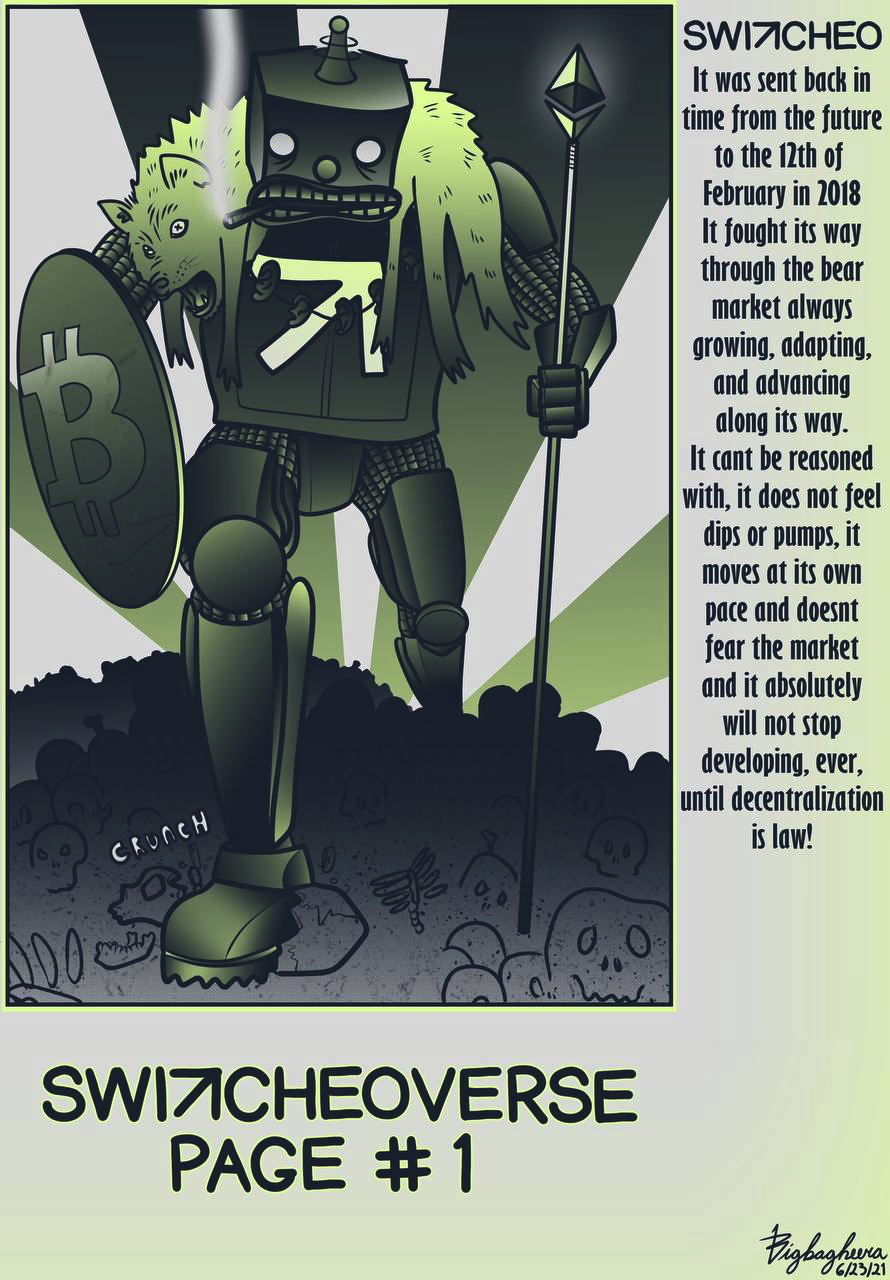 It's always incredible to see all the cool stuff the Switcheo community gets up to. We may still be early, but we've got lots of heart and a common mission; to decentralise the world!