Carbon has officially joined the #IBCgang, accelerating the interoperability movement for Cosmos —the Internet of blockchains— and furthering the protocol's vision in supporting a highly interconnected DeFi ecosystem that anyone can easily access.
Among industry-standard developer tools & game-changing tech that Cosmos continues to deliver, the Inter-blockchain communication (IBC) protocol is the hallmark in its ambitious pursuit of true interoperability between distributed blockchain networks.
Unlocking Interchain Liquidity
Carbon joins over thirty other chains in enabling support for IBC, creating opportunities to tap into liquidity from a myriad of different protocols (over $65B and counting!) from the growing number of IBC chains. This means that assets sitting on chains such as Terra, Cosmos Hub, Osmosis Zone or Secret, among others, will be able to flow seamlessly across Carbon, unleashing huge growth opportunities for the protocol!
To Cosmos and Beyond
While the IBC movement has thrusted Cosmos to the forefront of interconnectivity, the Internet of Blockchains still remains constrained to protocols that are IBC compatible.
Ways to access other L1 giants such as Ethereum, BSC, Avalanche, Zilliqa and Harmony have yet to be truly explored, precluding many users from reaping the true benefits of interoperability.
As a cross-chain DeFi protocol whose architecture enables easy connection with any L1 or L2 chain, Carbon is able to act as a gateway to Cosmos and other networks currently isolated from the ecosystem including Zilliqa, Neo and BNB Smart Chain. Carbon's cross-chain capabilities — already powering innovations such as ZilBridge (the first Zilliqa <> Ethereum bridge) and Demex (L2 derivatives DEX) — can now be employed on Cosmos to bridge assets and liquidity between any supported network beyond IBC, furthering Cosmos' vision of creating a truly distributed and accessible Internet of Blockchains.
The First AMM-orderbook DEX on Cosmos
As Cosmos continues to make technical leaps forward, so must the protocols and applications that run in its ecosystem. While DEXs on Cosmos have proved to be powerful, there has yet to be a full-featured orderbook DEX that can support more advanced order types and sophisticated financial constructs. Carbon changes that.
As a custom-built L2 protocol designed for trading, Carbon combines the trading experience of a CEX — from its ease-of-use to deep liquidity — with the security and self-custodianship harnessed in the power of a DEX. Carbon's novel AMM-backed orderbook model comes from the protocol's liquidity module being integrated with its on-chain orderbooks, allowing AMM liquidity to be simulated as real orders on the orderbook, keeping spreads tight and trades instant.
Once integrated with an IBC chain, any supported ICS-20 asset can be permissionlessly added to the protocol as a spot or futures market on Demex — the first dApp powered by Carbon.
Introducing ICS-20 Derivatives
Soon, decentralized futures and perpetuals will be landing on Carbon! With this launch comes new value that can be derived from ICS-20 assets in the form of derivatives markets.
As a L2 sidechain, Carbon is powerful enough to support any kind of sophisticated financial construct. Users will be able to collateralize any Cosmos asset for derivatives markets such as futures or perpetuals. To illustrate, what can be expected on Carbon include:
Creating ICS-20 derivatives markets such as ATOM futures, OSMO perpetuals
Utilizing any Cosmos asset as collateral or margin
Minting Carbon stablecoins e.g. caUSD with ATOM to trade on another L1 so users don't risk losing exposure to ATOM
Using Carbon stablecoins e.g. caUSD as the main settlement currency for futures and perpetual markets
SWTH is Brewing in the Osmosis Lab
Carbon has integrated with Osmosis Zone as its first IBC connection, and the SWTH-OSMO pool is now live! Osmosis is the leading AMM DEX and trading hub on Cosmos that allows anyone to create their own liquidity or trade IBC-enabled assets.
Depositing SWTH on Osmosis
SWTH holders, you can now deposit SWTH directly on Osmosis in just a few clicks!
Step 1: Connect your Keplr wallet on Osmosis
Connect to your Keplr wallet on Osmosis and ensure the network selected on your Keplr extension is Carbon.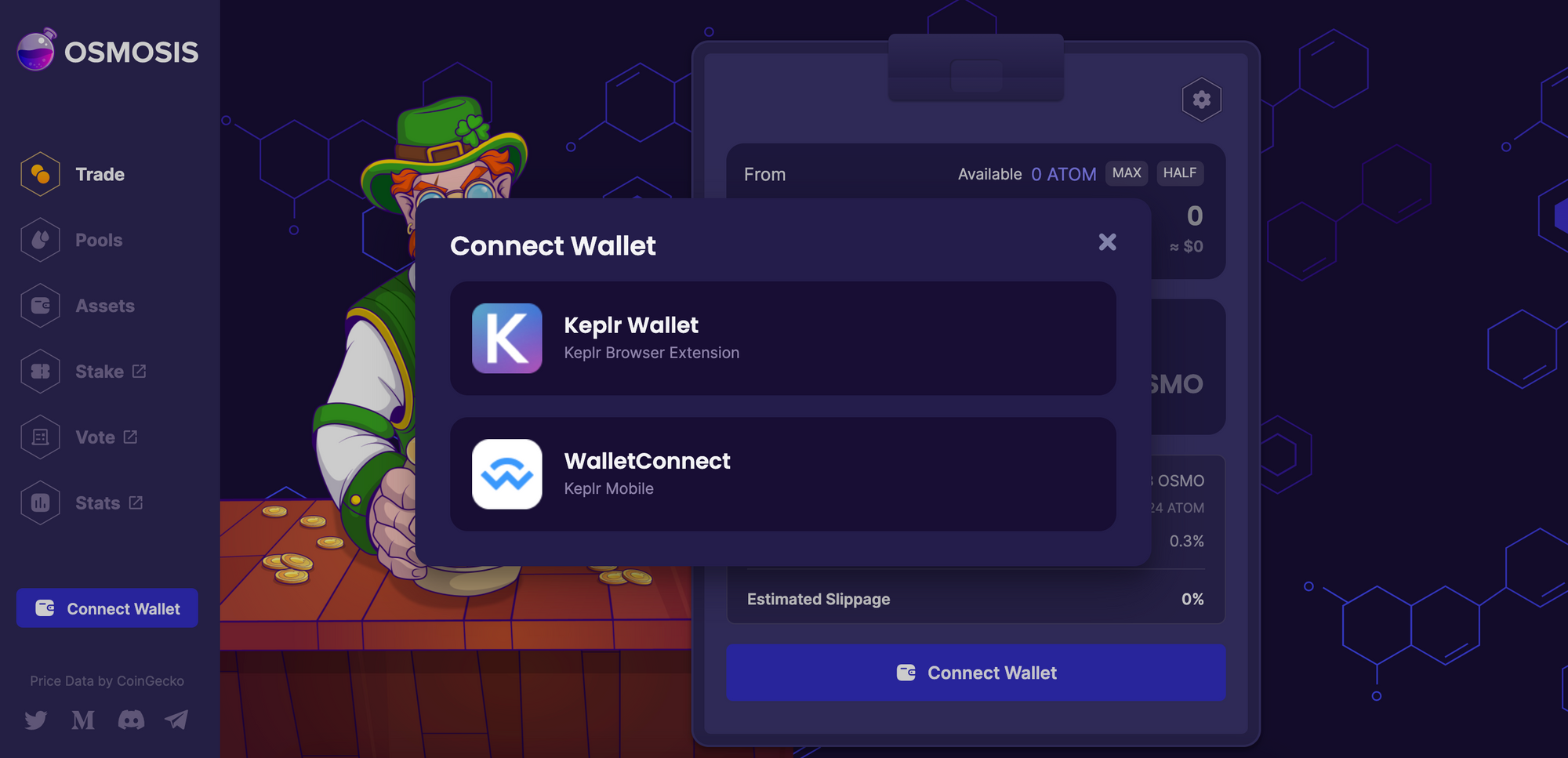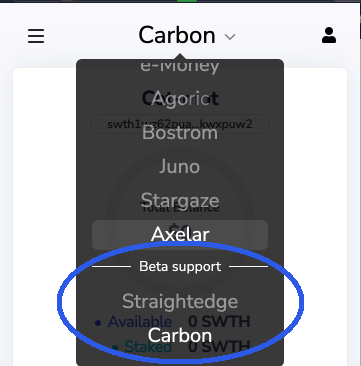 Approve the connection on the pop-up.  
Step 2: Deposit your SWTH tokens
Once connected, click on "Assets" on the left sidebar. Scroll to the bottom of the asset list until you see Carbon - SWTH.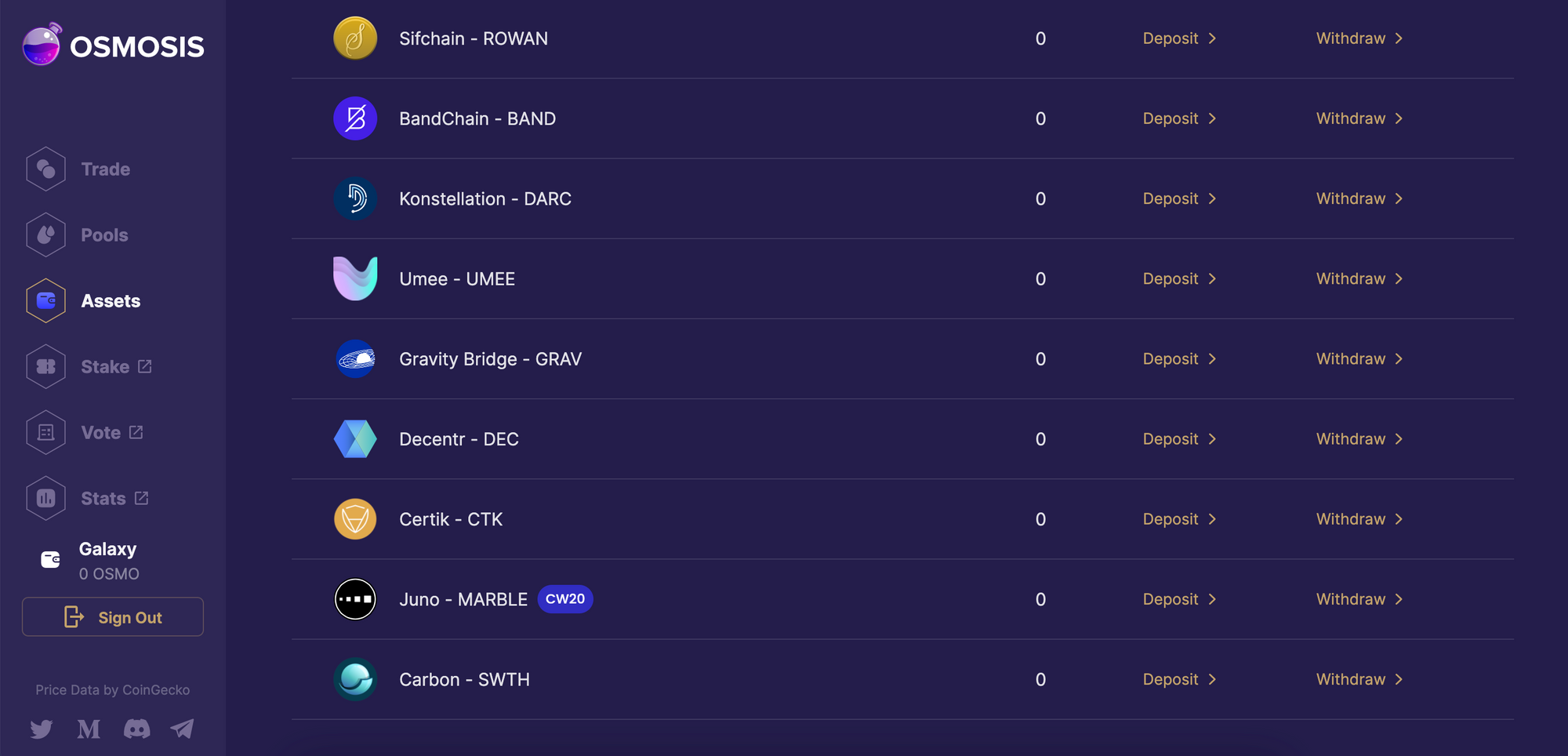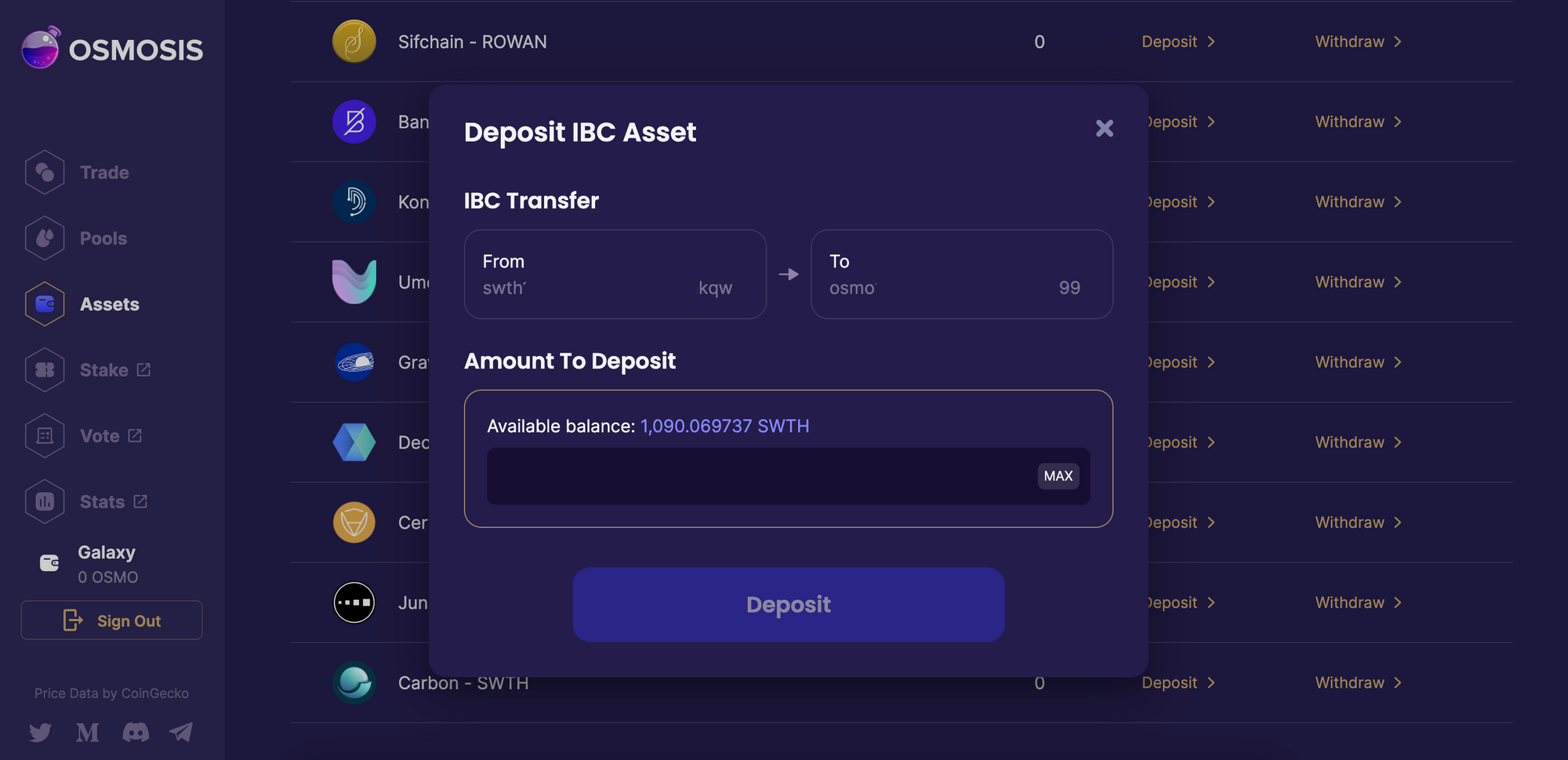 Note: If you face issues with insufficient gas fees, remove "Carbon" from your Keplr wallet connection (under the "Osmosis" connection) and try reconnecting your wallet on Osmosis.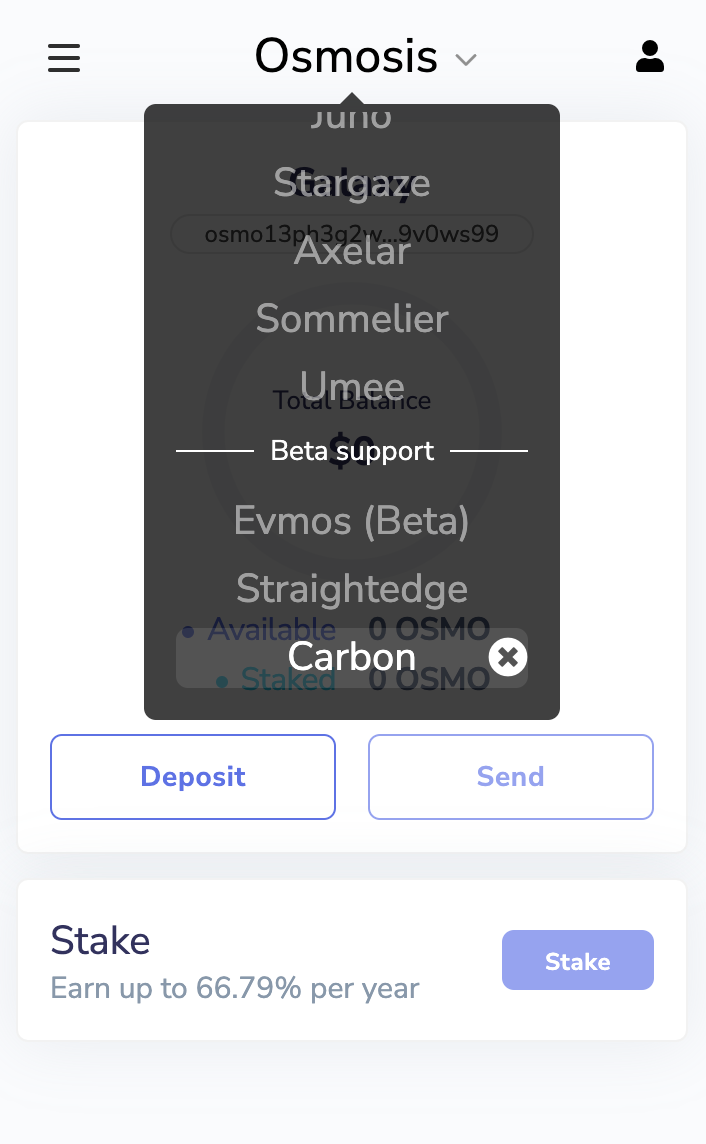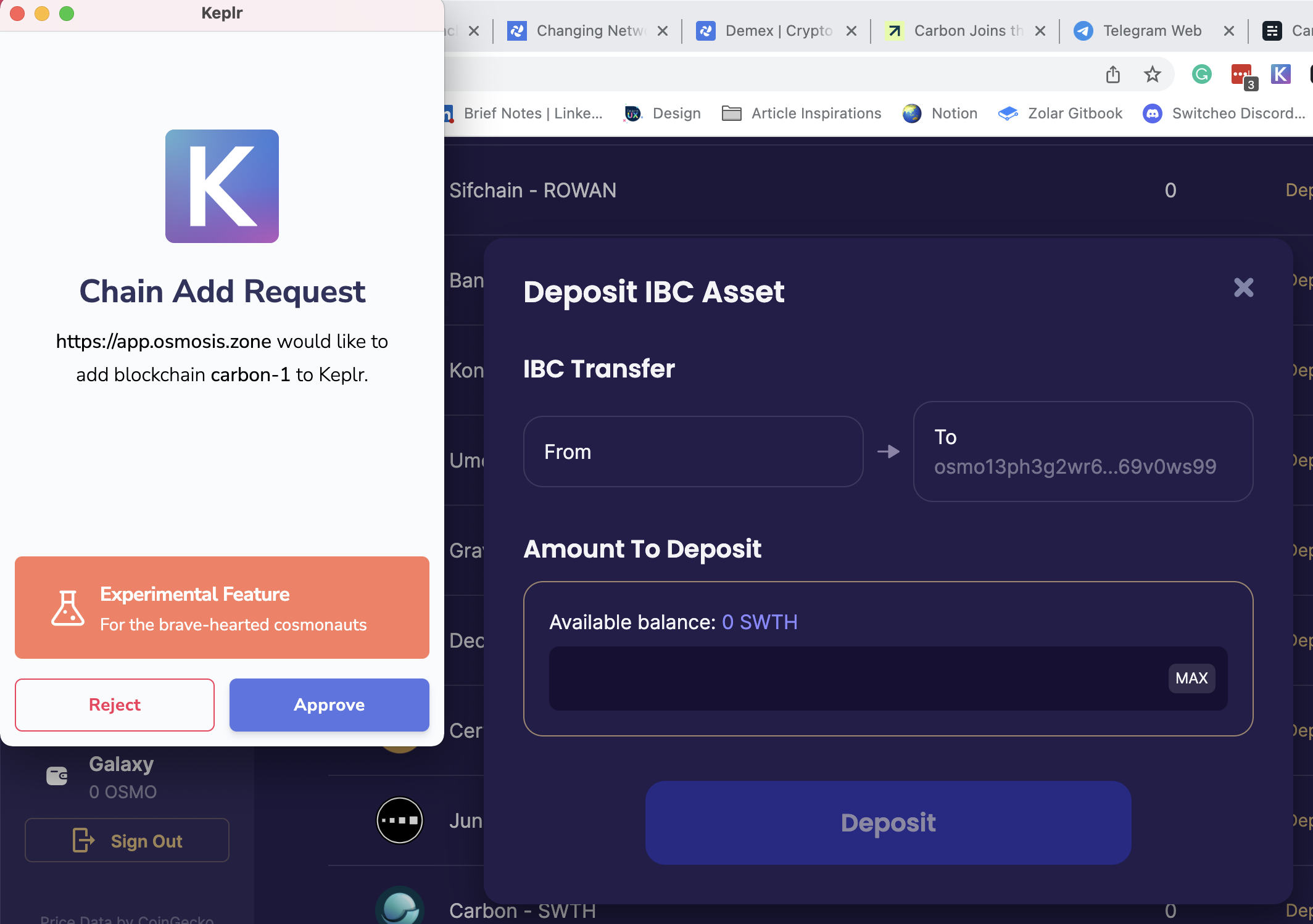 Approve the new chain-add request and you should now be able to deposit your tokens!
Liquidity Incentives
To incentivize initial liquidity and encourage wider adoption of the Carbon protocol, a total of 6M SWTH rewards have been allocated to the SWTH-OSMO pool over a 70-day period. SWTH liquidity incentives begin on 23 March Wednesday!
The SWTH rewards will be distributed from a community pool reserved for protocol development. View the governance proposal here.
As per the Osmosis' incentive matching scheme, liquidity providers may also be able to earn additional matched OSMO rewards! A proposal will soon be submitted on Osmosis governance to activate the matched OSMO rewards.  
(Passed) Proposal to match SWTH rewards with OSMO rewards
(Passed) Proposal to incentivize SWTH/OSMO pool with base OSMO rewards
After Osmosis, Carbon will look to connect with other IBC chains such as Terra, Secret and Cosmos Hub, exploring new synergies and partnerships that will serve to fulfill market gaps and accelerate the Cosmos ecosystem as a whole. As a community-driven protocol, systems such as the decentralized relayer network are being put in place to allow anyone to run relayers to IBC chains of their choice. The protocol will continue to put the interests and suggestions of the community as top priority in enabling new integrations within the Cosmos ecosystem.