As the saying goes, April showers bring May Flowers; The seeds of April's labour are bearing fruit - Let's see what went down in the Carbon ecosystem the past month!
1. Carbon
1. 1. eMode supported on Carbon
In the latest V2.25.0 software upgrade, the CDP High Efficiency Mode (eMode) was implemented. This feature will enable borrowers to extract the highest borrowing power out of their own collateral, allowing for higher capital efficiency.
For more information, click here.
1.2. Carbon live on Squid Router
Carbon is now supported on Squid Router!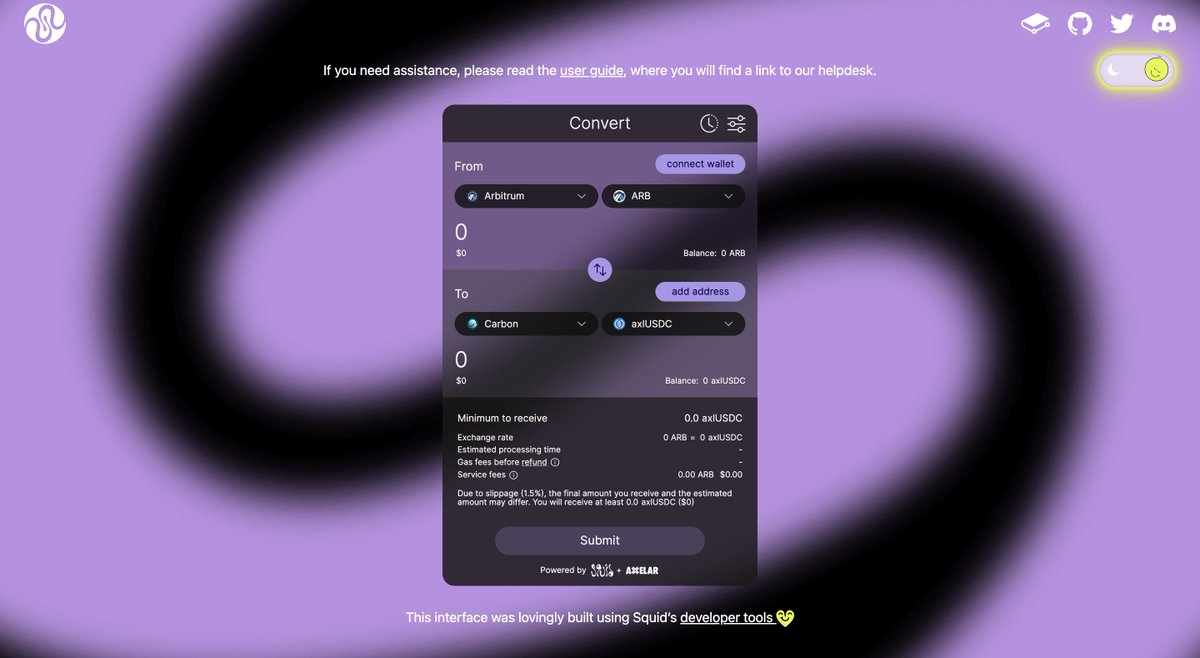 This allows users to swap tokens from over 9 blockchains (including Ethereum, Arbitrum and more) to Carbon.
1.3. Carbon live on IBCBridge by TFM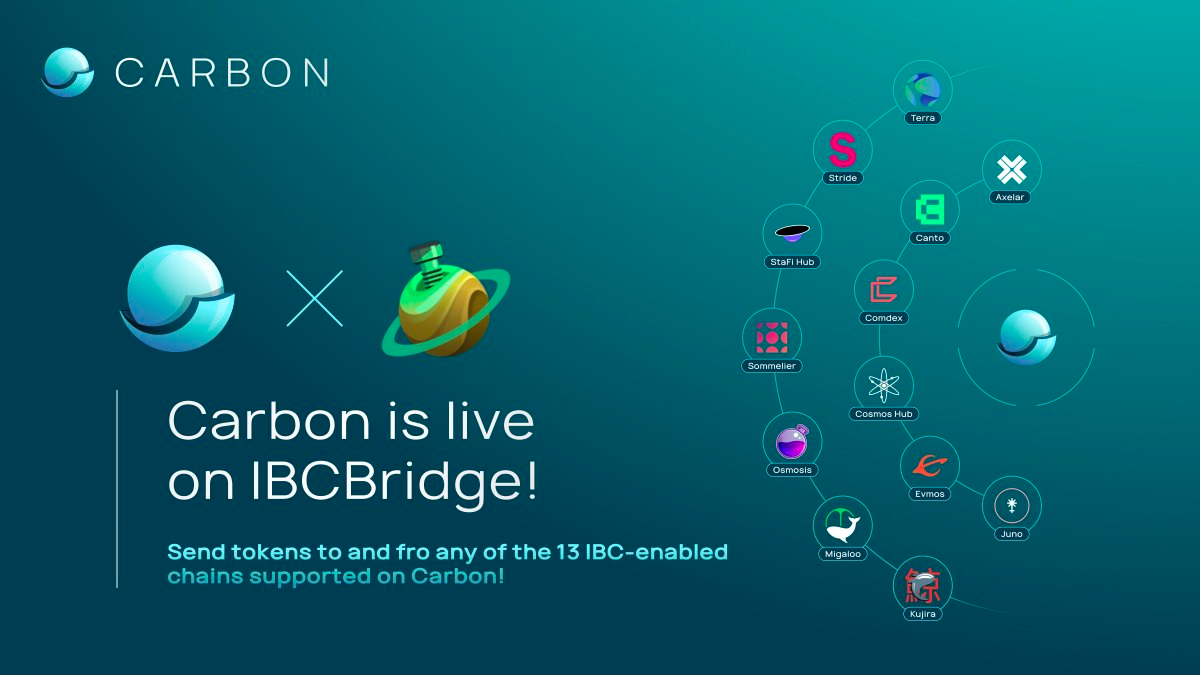 Carbon is live on IBC Bridge!
Cheap, fast and effortless - IBC Bridge allows users to transfer tokens between any of the 13 IBC-enabled chains supported on Carbon, with more underway.
1.4. Introducing rSWTH
After much anticipation, $rSWTH is live on StaFiHub!
$rSWTH unlocks the value of the staker's $SWTH assets without having to unstake them, allowing stakers to retain the benefits of staking (i.e. continue earning staking APY) while maintaining the liquidity of their staked $SWTH assets.
Learn more about $rSWTH here!
2. Demex
2.1. HODL Lottery
April saw the introduction of the HODL Lottery, where 10 lucky users stood to win 100 USD each!
The rules were simple - Participants need simply open a leveraged position on any perpetuals market, and eligible positions that fulfil the requirements would be eligible for tickets. The more tickets accumulated, the higher the chances of winning!
The competition took place from 4 April to 18 April 2023; Learn more about the HODL Lottery here.
P.S. Rewards have been sent out - Congratulations, all winners!
2.2. Demex Trading League
The Demex Trading League was held from 25 April to 9 May 2023.
The rules are straightforward: Trade every day on any spot and perpetuals markets, earn points from each trade, and climb up the leaderboard! Participants stood to win from a $3000 prize pool.

For more information about the rules and regulations, click here.
2.3. BNB Perpetuals Trading League
April saw the highly demanded BNB perpetual market listed on Demex.
To celebrate the listing of BNB perpetuals, Demex is hosting a BNB Perpetuals Trading League. Going strong from 11 May to 25 May 2023, by participating in the competition, traders have the opportunity to win from a $2,100 prize pool!
Don't miss out - Take part in the competition here!
For more information, click here.
2.4. New Polygon tokens listed
New tokens on Polygon - MATIC, SWTH, USDT, WBTC, and ZIL - are now supported on Demex!
With the permissionless market creation feature on Demex, users can create market pairs of their choice and begin trading on the platform easily.
2.5. $rSWTH on Demex
Demex was quick to onboard $rSWTH, just days after its launch. Users would be happy to learn that they can now begin:
Happy trading/LPing!
3. Nitron
3.1. rSWTH-SWTH LP token as collateral
A first in the Cosmos ecosystem, the rSWTH-SWTH LP token is currently available as collateral on Nitron!
How it works: By contributing liquidity to the rSWTH-SWTH liquidity pool on Demex, users can acquire the rSWTH-SWTH LP token, which can in turn be used as collateral on Nitron to either borrow other yield-generating assets, or to mint USC.
Don't miss out! The rSWTH-SWTH lending pool is incentivized with $1600 FIS and SWTH each month, for a period of 6 months.
3.2. STRD as collateral
That's not all! The STRD lending pool has been incentivized with $500 SWTH as well. Users can now:
Earn lending APR by lending STRD out
Use STRD as collateral to unlock borrowing power or mint USC
4. What's next?

As we approach the end of May, Demex is set to unveil an impressive array of innovative features and enhancements that are sure to captivate its users: Lite mode, MetaMask v2.0 and more!
Stay tuned for an exhilarating journey with Demex as it redefines the boundaries of what a trading platform can achieve.
Until our next update!